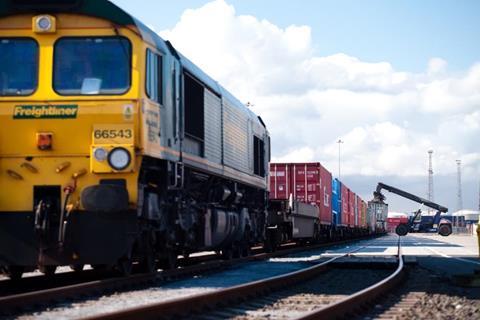 Network Rail is developing two new freight routes from Spain to London to help keep supermarkets fully stocked with fresh produce.
It aims to run daily trains of refrigerated containers from Valencia and Murcia to London. They will transport food, as well as other essential hygiene and medical products.
The service will expand on an existing express route established by Transfesa Logistics in April.
With road transport still strained across Europe, "railway is, now more than ever, the most sustainable and reliable means of transport," said Bernd Hullerum, CEO of Transfesa Logistics, at the initial launch.
Road haulage costs remain high with many drivers out of work due to the collapse in demand from non-essential sectors. Trucks also continue to face delays at borders, with waits of up to two hours for the Eurotunnel as social distancing measures limit the number of vehicles allowed on.
It is pushing businesses to increasingly turn to rail to ensure the secure delivery of supplies. Swedish retailer ICA is now using rail services to bring food from mainland Europe due to a lack of truck capacity.
"It is essential we keep freight services running so that goods can be delivered to supermarkets," said John Halsall, MD for Network Rail Southern region.