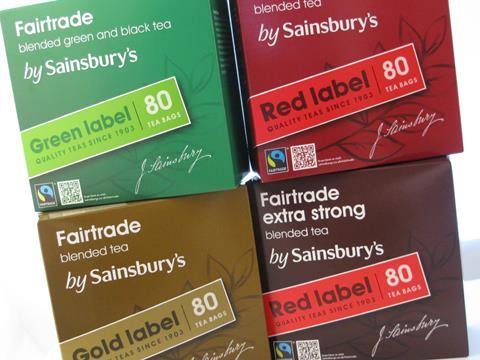 A group of NGOs including Banana Link, Oxfam, Christian Aid and the Women's Institute have written to Sainsbury's CEO Mike Coupe to express their dismay at the supermarket's new sustainability plans.

A letter by the group described the creation of the new Sainsbury's Sustainability Standards as a backward step that could potentially mislead consumers.

Tea farmed under the retailer's Fairly Traded tea pilot - which will see it abandon Fairtrade accreditation on four key own label tea lines and replace it with Sainsbury's own standards - will be introduced in stores later this month.

The NGOs had a number of 'serious concerns' over the initiative, said the letter.

'We see own brand certification standards as a step backwards in tackling major issues related to poverty and environmental sustainability,' it added. 'We will only succeed by working together more closely in sector-wide approaches and Sainsbury's scheme risks undermining our collaborative efforts of the last 25 years.'
The group claimed Sainsbury's products sourced 'in such a different way to both Fairtrade certification and fair trade principles would mislead consumers if branded as Fairly Traded' as the trial proposed.
It claimed Sainsbury's suggestion that its Fairly Traded standard matched all the benefits of Fairtrade fell short of the NGO's guidelines on 'deep-rooted issues such as addressing very low wages in the tea sector as well as worker empowerment'.
'Workers on tea plantations will no longer benefit from a clear and credible plan to raise wages towards a living wage,' the letter stated, while pointing out the proposed Sainsbury's tea standard would require producer groups to certify additionally with other schemes at their own expense.
'Sainsbury's will therefore be drawing heavily on investments made by others, not least farmers' organisations themselves, to support its own needs. While this may create efficiencies for Sainsbury's, it is unlikely to do so for farmer organisations.'
Sainsbury's this week rejected the concerns of the Fairtrade Foundation over its plans, by stating it was doing "what's right for the business, our customers and farmers, and we're not going to shy away from that".