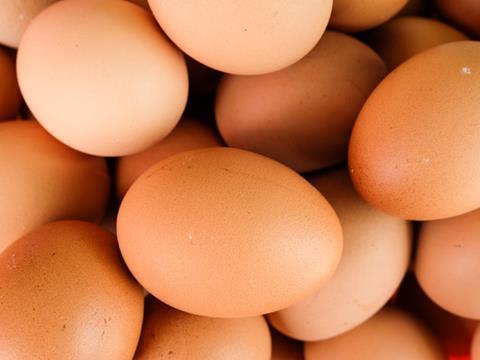 Noble Foods, the UK's biggest egg supplier, has committed to supplying only cage-free eggs by 2025.
The group-wide pledge, which covers all of its brands including Big & Fresh and Gü desserts, was made today (20 March) and followed "months of planning", the company said in a statement.
"Noble has been working closely with its retail partners and the farming community to ensure a smooth transition," it added.
It comes two days into a five-day protest outside the company's London head office by non-profit group The Humane League, which launched its campaign calling for Noble to go cage-free in October. The group claimed Noble's previous commitment to source 70% of its eggs from non-caged hens by 2020 did not go far enough.
In light of today's announcement by Noble Foods, which currently sources about 62% of the more than three billion eggs it supplies annually from cage-free farms, The Humane League was considering ending its protest early, said head of campaigns Pru Elliott.
"We're very pleased to see Noble Foods taking this step in the right direction. It's long overdue, but it does bring Noble back in line with commitments being made by the rest of the end of the industry," she said.
"We hope that they follow through and work hard to totally eliminate cages from their supply chain. It will pave the way for all the major retailers and restaurant chains who've made this commitment to make it happen even faster, which is ultimately extremely good news for the hens."
It follows a weekend of bad publicity for the company, which came under fire after animal rights group Animal Equality uncovered alleged welfare abuses at one of its suppliers during an investigation from January to March this year.
The animal rights group claimed hidden cameras installed at Walston Poultry Farm showed birds suffering from severe feather loss and displaying peck wounds. It also found farm workers failed to visit sheds for up to four days, in violation of welfare legislation.
British Lion announced today it had partially suspended Walston Poultry Farm from its assurance scheme pending retraining.
"We welcome Noble's commitment to go cage-free by 2025, though of course we'd like to see as many hens out of cages as possible before that date," said Animal Equality UK executive director Toni Shephard.
"While cage-free doesn't mean cruelty-free, this decision will reduce the suffering of millions of hens in Britain every year."