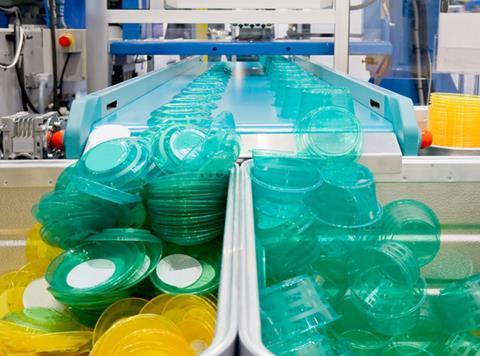 Packaging suppliers are struggling to keep up as food production surges to meet customer demand.
Many food and drink manufacturers have increased production by as much as 50% in response to unprecedented demand from shoppers.
But some are now limited by packaging availability, with their suppliers unable to keep pace.
"Suppliers are struggling because of increased demand, but also because some workers are understandably now refusing to attend," said Walter Zanre, MD at Filippo Berio UK.
The Italian olive oil producer failed last week to hit its production targets as a result of limited supplies of glass bottles, caps and cartons.
"I feel in three or four weeks we're going to be hit with another big hole because there will literally be nothing around."
However, market shortages could quickly be resolved if demand begins to return to normal levels.
Dick Searle, CEO at the Packaging Federation, insists the supply of raw materials is largely unaffected and packaging continues to flow through the system.
"The problem is caused by absolutely extraordinary levels of demand," he said. "The pipeline in terms of incoming materials is holding up OK.
"It really is just a question of production capacity."
Plastic packaging's raw materials are largely sourced from China, which, despite a widespread lockdown earlier in the year, saw a limited reduction in supply.
"We do a lot in China, Vietnam and we've not seen anything as yet," said Danny Leigh, MD at The Hub Packaging Solutions, a retail and wholesale supplier.
"You'd think that if there was a major issue from the raw materials side it would have filtered through here. Touch wood at the moment but it's not been that bad."
Scandinavia, the main supplier of paper pulp for cardboard cartons, has similarly been able to maintain supply.
"The Scandinavian countries have been fine," said Leigh. "That's really not been too bad either."