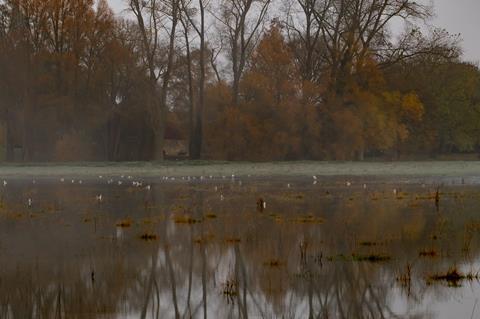 Months of wet weather have taken their toll on potato crops, with prices already increasing ahead of this week's devastating flooding.

Fields have been submerged in the worst-affected parts of the country after what the AHDB described as the wettest year since 2012.
According to the levy board's most recent harvest estimate, released today (15 November), 11% of the potato crop remains in the ground with 2-3% of it "unlikely to be lifted".
"This figure could rise as we head into December if weather conditions don't improve," said head of arable market intelligence at AHDB David Eudall.
"For the remainder of potatoes in the ground, it will remain a question of whether quality will hold up for harvesting in the New Year."
Met Office rainfall maps for both September and October showed key potato growing areas in the east and the Midlands were hit by more than double the long-term average. Meanwhile, the first half of November has seen severe flooding in parts of Lincolnshire and southern Yorkshire.
No weather warnings are in place for the weekend but the Environment Agency called on communities to "remain vigilant" as further localised flooding is still possible.

Price inflation on potatoes has already hit suppliers further up the supply chain, following a dismal 2018 growing season and harvest which started with the 'Beast from the East' and was followed by severe drought.

Last year's GB potato yield was the smallest for six years [AHDB], with growers pulling 700,000 fewer tonnes of potatoes from the ground.

"There is inflation [in crisps] predominantly driven by the really poor potato harvest that is currently being sold in the market. The late July harvest was particularly poor," said sales director at KP Snacks Andy Riddle.

KP's top three crisps brands have all seen price rises this year, with Tyrrells (up 21.9%), McCoy's (up 9.6%) and Hula Hoops (up 9%) also up when compared with last year's prices [Nielsen 52 w/e 8 September].
The full extent of price increases following the latest floods would not be known until the end of November, growers said. However, they warned much of this autumn's harvest could now be ruined. "In the next two weeks the crop will either come out the ground or it will be written off," said potato farmer and Fairfields Farm Crisps co-founder Robert Strathern.

"If some of that crop comes out the ground and is OK, that'll ease pressure on crop availability. If it stays in the ground, it'll firm prices up further."

Until August, this year's growing season had been relatively normal, added Strathern.

"We got to the end of September and the sort of weather that normally comes at the end of October - the large Atlantic storms which bring heavy rainfall - started and hasn't stopped since.

"When you're harvesting, if it's too wet, it's difficult to sift [soil] and machinery tends to get stuck. It is a ball-ache, to put it bluntly."

The poor harvest could also see retailer contracted potato growers struggling to meet their minimum supply agreements.

"If farmers don't [supply the minimum amount], some of the supermarkets will force them to go out to the market and buy in what they are short of," said potato farmer and co-founder of premium crisp-brand Savoursmiths, Mike Russell Smith.

"Say they've grown 1,000 tonnes agreed at £200 a tonne and they've only managed to get 800 tonnes into that supermarket and the price is now £400, they'll have to go out to the market and buy that at £400 a tonne and still sell it in at £200. That's going to have a very negative impact on a lot of potato farmers."

On Thursday, the government announced flood-hit farmers in the north of England would be able to apply for up to £25,000 in government grants to help with repair costs.
This article was updated at 19:00 on 15 November to reflect the release of new AHDB data