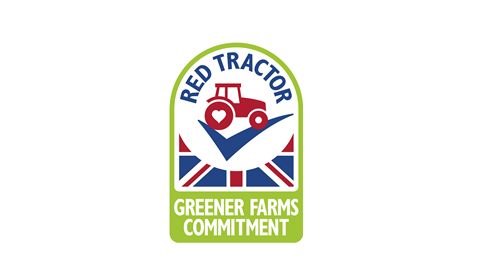 Red Tractor has responded to a barrage of criticism following its launch of a new environmental accreditation by abandoning its planned rollout next April.
The farm assurance scheme unveiled plans for its retailer-backed Greener Farms Commitment (GFC) last month, which promised to "meet the needs of the market with a single consistent industry approach" to sustainability accreditation.
However, it announced yesterday afternoon it would put all new standards and additional modules "on hold", pending a review of its governance by the NFU. It also apologised to members over its handling of the controversy.
The framework – a voluntary 'bolt-on' module to its core farm assurance scheme – aimed to offer farmers, processors and packers one set of common environmental criteria, in reaction to what Red Tractor described as an increase in the "duplication" of environmental accreditation across the food sector.
Supported by leading retailers and the BRC, the module was due to come into effect on 1 April 2024.
But following strong opposition from across the farming sector over its announcement, with critics seizing on how it was devised with no consultation from farmers and food producers, the NFU last week announced the launch of a review into Red Tractor.
The probe will examine the governance of the farm assurance body, looking at its decision-making procedures and transparency, in addition to who was consulted by Red Tractor in the development of its standards. It is due to report its findings by January.
The NFU, which – along with the farming unions of Ulster and Scotland, alongside AHDB, Dairy UK and the British Retail Consortium – jointly owns Red Tractor, also announced a more in-depth review of the wider farm assurance framework in the UK last week.
And in response to the farming union's move, Red Tractor has now decided it "will not progress" with its plans until the NFU's first review is completed at the earliest.
"As the team have been working with our technical advisory committees and sector boards on the detail of the Greener Farms Commitment, the strength of feeling from farmers across England, Wales, Scotland and Northern Ireland has become clear to everyone," said Red Tractor chair Christine Tacon.
"It has been a difficult period across UK agriculture, which has brought forward frustration from farmers that runs deeper than just our proposals for an environment module," she added. "We recognise that and have decided that the NFU's independent review of Red Tractor governance must come first."
The announcement of the GFC and its backing by major retailers was described as a "fait accompli" by some farmers who questioned whether the module would ultimately become compulsory, but without the expected premium paid to progressive food producers who had adopted more sustainable production methods.
The module would have enabled farmers "to make commitments and track their own progress across five key areas for environmentally focused farming: carbon footprinting; soil management; nutrient management; waste management; and biodiversity", Red Tractor said at the time of its unveiling.
But despite the merits of standardised methodology in tackling Scope 3 emissions, the announcement of the scheme created "a massive shit storm", said one senior food sector source, and raised questions over the leadership of Red Tractor.
There would be "no decisions on the implementation or timing of the GFC or on other changes to existing Red Tractor Standards until that NFU review is complete", Tacon stressed.
"Any continuation of work on an environment module would need to include more detailed dialogue with farmers and supply chains and consider relevant government policy on agriculture for all UK nations," she conceded.
"The views of our members are very important, and we are sorry that we have been slow to understand them fully. The discussion that has been provoked is essential and offers a great opportunity for the farming sectors and supply chains to work together."