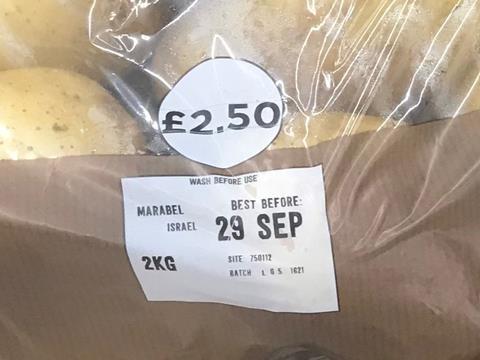 Retailers have resorted to supplementing UK potato supplies with imports after the summer heatwave wreaked havoc on Britain's fields.
Despite the UK being 95% self-sufficient in fresh potato production, Tesco, Sainsbury's and Asda have all been stocking produce from as far afield as Israel to supplement the main potato crop currently under harvest.
Supermarkets were usually more likely to stock imported spuds in the spring, as opposed to late September, according to AHDB strategy director for potatoes Rob Clayton, with potatoes from countries such as Morocco, Egypt and Israel sometimes used to top up supply ahead of the British season.
But this year's difficult growing season meant some retailers were now having to bolster UK supplies with imports.
It follows concerns in August potato shortages could be on the cards in the UK after the summer heatwave drove down water supplies, with Clayton warning "only half of the UK's potato farms have access to irrigation – the rest rely on rain water".
The heatwave had also compounded problems caused by a difficult drilling season after the cold spring, Clayton added, leading to fewer hectares planted.
This meant growers could expect to harvest 180,000 fewer tonnes in average conditions – and even less following the driest June on record.
"The extreme heat stopped potatoes putting on as much weight as they should have, even when they could get enough water," said trader Bryan Allcock of Cheshire-based E Park & Sons.
"We've seen imports coming in from across Europe over recent weeks where main harvest weights haven't been so good," he added. "Shortfalls normally tend to arise when the previous season's crop dries up around April-June."