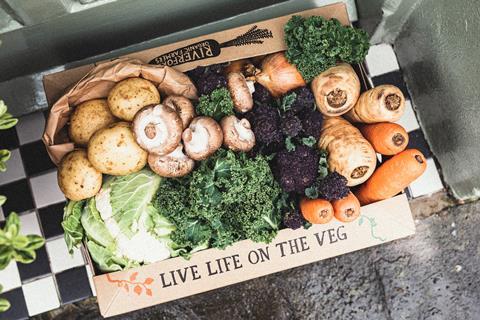 Riverford has secured B Corp certification thanks to its employee ownership structure and environmental policies.
The organic veg box company has become the second-highest ranked UK food company on the sustainability accreditation scheme with a score of 124.6 out of 200 from its first assessment. Divine Chocolate is in first place with a score of 127.1.
The firm gained its highest score in the 'Workers' section of the B Corp assessment thanks to its employee ownership structure, which it introduced in June 2018, as well as its democratic governance system and health, safety and wellness standards.
Riverford also performed well in both the 'Community' and 'Environment' sections thanks to its organic farming and sourcing practices as well as its efforts to reduce its climate impact.
In February, it launched packaging-free veg boxes. Its application for B Corp accreditation also focused on its use of independent suppliers and purchasing "significant volumes" from farms close to its packhouses.
"Riverford has always sought to balance the needs of planet, staff, suppliers and customers, with commercial success being a means to an end, not an end in itself," said founder Guy Singh-Watson.
"We see the most vital benefit as not marking our own homework; regular assessment will highlight areas for improvement and help us balance the competing demands of one 'right thing' against another."
Launched in the UK in 2015, all businesses certified as B Corps must first complete an impact assessment measuring their business across five core areas, including governance, employee relations and environmental impact.
There are now more than 45 B Corps in the UK food and drink sector and over 3,000 B Corps across 150 industries in 71 countries.