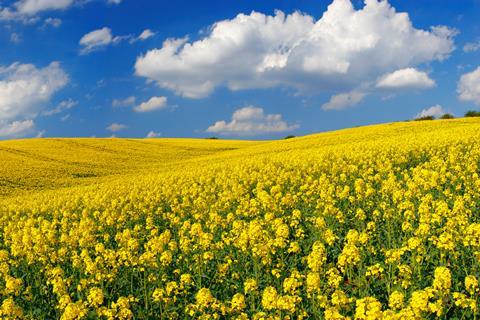 UK oilseed rape yields and crop area have declined dramatically after a year of extreme weather and uncontrollable crop decimation caused by the cabbage stem flea beetle, new figures show.
The crop – a key ingredient for many products, from rapeseed oil and margarines to mayonnaise and salad dressings – has seen an 18%-26% drop in yield against the five-year average [AHDB], according to AHDB.
It comes with the crop's planted area at its lowest levels since 2002, and follows industry warnings farmers are moving away from the crop "in droves".
Analysis of satellite data by the UK Centre for Ecology & Hydrology, which looked at all of the UK's arable fields, found the 2020 planting area was down by 38% against the five-year average.
Forecasts by AHDB suggest this year's yield could be about one million tonnes, well down on the 2.5 million tonne per year average seen from 2011 to 2015 and about half of what the UK typically consumes in a year.
"We're seeing a transition from UK vegetable oil production to an increase in imports," said AHDB senior analyst, James Webster.
"Sunflower seed oil would be a traditional switch. You may see some more people using it but you may also see palm oil come in in place of rapeseed oil. It comes down to what's going to be price competitive. Sunflower oil isn't competitive at the moment due to drought in the Black Sea, [which has seen it] move to a significant premium compared to rapeseed."
Webster added Australia would be the most likely source for oilseed rape imports in coming months.
UK capacity has been further impacted following an explosion at a key crushing facility on the Thames, which took one of the country's biggest crushers offline in June, though The Grocer understands the site at Erith, Kent could be back online within a couple of months.
While the extreme weather in 2020 (including the fifth driest spring on record) has had a big impact on this year's domestic crop, UK oilseed rape growing has been particularly affected by the cabbage stem flea beetle since an EU ban on the use of neonicotinoids came into force in 2018.
"We estimate the removal of effective seed dressings cost farmers around £94m in lost crop in 2019, and the risk from flea beetle and larval damage is becoming too great for many farmers to continue planting," said NFU crops board chairman Matt Culley.
"This a serious concern for many and a great shame for the sector if we continue down the track of becoming reliant on OSR imports.
Arable farmers are already having to compete against imports that have been grown with products no longer in use here, and we need our government to ensure that the end of the transition will not signal the opening of the floodgates to even more food that has been grown using products that are illegal in the UK."
Culley's warning was echoed by a senior industry source who said growers were "walking away in their droves" from oilseed rape.
They criticised the government's decision to continue the ban post-Brexit, describing it as "bananas" and comparing the UK government's "hand sitting" over the issue, which was first raised by the NFU in March, against the decision by the French government in August to provide a derogation against the use of neonics to save its sugar beet industry, which has been ravaged by aphids.
"You would love to think they could take advantage after Brexit," the source added. "Insecticide that is sprayed on a plant is way worse than a neonicotinoid seed dressing. The chemical is systemically in the plant [and] would kill the flea beetle [but would] kill way fewer bees as the flowers from the rapeseed would be in full bloom."
In April, the NFU urged Defra to work with the industry in a bid to develop an effective alternative to neonicotinoids or provide support for growers until such a milestone was reached to protect them from competition outside the UK.
Post-Brexit, imports of oilseed rape will be duty-free, while tariffs for rapeseed oil for human consumption will come in relatively low at under 10%.