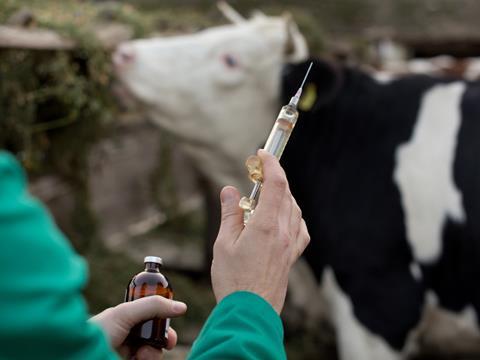 Many supermarkets continue to overlook the misuse of antibiotics in their supply chains, despite significant progress in reducing their use, a study by the Alliance to Save Our Antibiotics has claimed.
The UN and World Health Organization have called end the misuse of antibiotics in farming needed for human health. But despite this, some of the UK's largest retailers continued to "put their customers' health at risk" by selling meat from animals that may have been speculatively treated with antibiotics, the ASOA said.
Six retailers – the Co-op, Lidl, M&S, Sainsbury's, Tesco and Waitrose – now had bans on their suppliers using antibiotics routinely for disease prevention. Morrisons had a ban in some species, while Aldi recommended routine use of antibiotics be avoided but had no ban, the Alliance's latest report, published this week, said. However, Aldi said it had initiated a ban since the report was collated.
ASOA singled out Asda and Iceland for having no restrictions other than minimum legal requirements.
However, a spokesman for Iceland stressed it was "well aware" antibiotic overuse was an important issue for human health.
Iceland had an established technical policy for own label suppliers on the use of veterinary medicines "and this is in the process of being updated and expanded to include more detailed advice", he said.
"Our revised policy has been discussed with the report's authors and will be finalised in the coming weeks. It will include an antibiotics reduction strategy, a ban on the routine use of antibiotics, and restrictions on the use of 'critically important antibiotics'."
Meanwhile, an Asda spokesman added the routine prophylactic use of antibiotics was not permitted in its supply chain. Nor was their use for production purposes, such as to enhance growth or to improve feed efficiency, he added.
"We take guidance from the Veterinary Medicines Directorate, who collect samples from our suppliers and test for any trace of antibiotics," he added. "We also publish all use of antibiotics on our website each year for complete transparency."
Better communication
Notwithstanding these comments, the ASOA report suggested retailers could do more to communicate the work they did on antibiotic reduction.
"Much more and better data is still needed," it suggested, citing a YouGov survey carried out last November, which found 96% of 1,897 people polled thought supermarkets should publish antibiotic use data they possessed.
For example, none of the supermarkets published good data on antibiotic use distinguished by farming system – an important distinction to help with analysis and to encourage best-possible farm practice, the report pointed out.
"Supermarkets are known to be in possession of data by husbandry system, particularly in the case of poultry, and should publish this information," the Alliance urged.
"We know certain practices in intensive farming are linked with higher levels of stress and of antibiotic use, such as keeping large numbers of animals in cramped conditions indoors, weaning piglets when they are too young or using very fast-growing breeds of chickens," said ASOA scientific adviser Cóilín Nunan.
"If supermarkets are really committed to reducing farm antibiotic use, they should publish antibiotic data viewed by farming system, as this would help all farmers to learn from best practice. Consumers also have a right to know how their food is being produced and the YouGov survey shows that they want this information."
Elsewhere, the Alliance is also calling for a complete ban on the use of the antibiotic colistin in farming. A medicine of last resort, it is used for treating antibiotic-resistant and life-threatening infections. M&S and Waitrose were the only supermarkets which explicitly prohibited their suppliers from using colistin, it claimed.