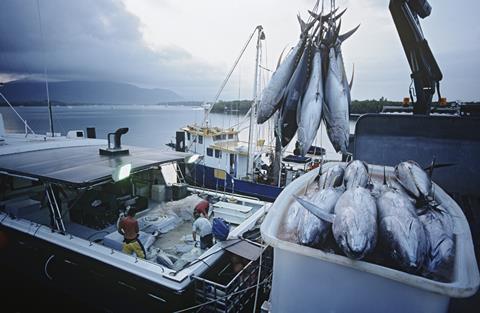 UK retailers will be complicit in the ecological collapse of yellowfin tuna in the Indian Ocean unless they act now, marine campaigners have warned.

A draft report by the Indian Ocean Tuna Commission (IOTC), seen by The Grocer, claims Spanish vessels illegally caught 13,000 tonnes of Indian Ocean yellowfin tuna in 2018, decimating stocks and increasing the risk of collapse.

The European Commission cut Spain's future available catch by about €4m after it caught its vessels illegally overfishing Indian Ocean yellowfin tuna in 2017.

However, with the IOTC's estimates for 2018 claiming Spain's over-catch alone exceeds the combined catch of China and Japan, campaigners believe this could rise to more than €30m.

Yellowfin tuna from the Indian Ocean was declared unsustainable by the MSC in April 2016. This includes those caught by pole and line.

Nonetheless, UK supermarkets continue to stock the fish. Spain supplies 74% of the UK's yellowfin tuna, according to official import data, following a marked increase in 2019. And campaigners are urging supermarkets to change sourcing policies.

"The argument that retailers have put up until now - that the Indian Ocean's stocks are responsibly managed - will no longer do," said Charles Clover, executive director at Blue Marine Foundation.
"If the retailers don't act decisively to change a pattern of failure, they are going to be party to a collapse," he added, reiterating calls for a ban on fishing Indian Ocean yellowfin tuna for several months of the year. A similar programme by The International Commission for the Conservation of Atlantic Tunas in 2009 has seen the Atlantic bluefin tuna show signs of recovery.

In 2016, supermarkets including Tesco, Sainsbury's, Asda, M&S, Morrisons and the Co-op called on IOTC members to cut yellowfin tuna catches by 20% and introduce harvest control. But they have continued to rise.

Tesco said: "We share the growing concerns about Indian Ocean stocks of yellowfin tuna and as a result, earlier this year, reduced it to less than 1% of our overall tuna sourcing. Spain is not involved in our supply chain at any point."

Waitrose confirmed it stocks line-caught, Indian Ocean yellowfin tuna, though not supplied by Spain.

The British Retail Consortium, responding on behalf of Marks & Spencer, Morrisons, Asda and Ocado, said it recognised "the need for urgent improvements in the management of Indian Ocean yellowfin tuna fisheries" and was "actively lobbying for the implementation of strong, stringent and effective rebuilding measures".

Aldi, Co-op and Sainsbury's confirmed they did not stock yellowfin tuna from the Indian Ocean. Lidl and Iceland did not respond to a request for comment.