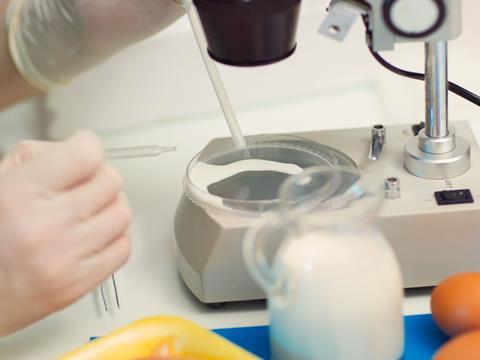 British shoppers would be more likely to buy 'test tube' milk made using genetically engineered yeast than 'lab-grown' meat, research for The Grocer suggests.

In an interview for this year's Dairymen supplement, Silicon Valley food startup Perfect Day said it would launch dairy proteins made using genetically engineered yeast as food ingredients within "the next couple of years".

The company claimed the proteins, made using a fermentation process "akin to craft brewing", could be used to produce an animal-free milk that would taste like real cows milk, while boasting the welfare and environmental credentials of plant-based products.

The majority (83%) of Brits were unaware of these developments, but nearly three in 10 (28%) said they would buy 'synthetic' milk, with less than half (40%) refusing to consider it, our survey of 1,000 UK consumers by Harris Interactive found.
This makes it a more attractive option than cultured meat, with a previous survey for The Grocer suggesting only 16% of consumers would be willing to try cultured meat, with 50% refusing to consider it.

"Immediate reactions are somewhat positive," said Celia Ward, a senior research executive at Harris Interactive UK. "Clearly there is scope to spread the word about synthetic milk and its benefits."

Younger consumers were more open to the idea of synthetic milk than older shoppers, our research suggested. Almost a third of consumers (31%) agreed it was a 'good thing' for society, but that fell to just 19% of over-55s. In contrast, 44% of 18 to 24-year-olds were in favour.

With most shoppers still in the dark about synthetic milk, there were some concerns "to be overcome for consumers to be more open to the idea", added Ward.

Almost half of the shoppers (50%) we surveyed were worried it might contain dodgy chemicals or ingredients, with the fact synthetic milk wasn't 'natural' (43%) and anxiety over possible long-term side effects (37%) also major factors.
However, most consumers (43%) said they'd be more likely to try it if they knew it was safe, while over a third (35%) said they would be more likely to give synthetic milk a go if it had the same taste and texture as real milk.
"With 17% of consumers saying they want to try alternative milks but don't think they taste the same as real milk, a synthetic milk that tastes like real milk could be a winning proposition," Ward said.

Perfect Day claimed its "pure and functional" dairy proteins could be used to produce milk, ice cream, yoghurt and cheese that would "taste exactly the same as those made with conventionally-produced dairy proteins".

The company stressed any traces of genetically-modified yeast would be carefully filtered out of the final product. "Genetic modification is part of our process, but it is not the product," it said.
Subscribe today to access The Dairymen 2018 https://bit.ly/2oA51SB.
Back to the future: why doorstep milk delivery is undergoing a resurgence
1

2

3

4

5

Currently reading

'Test tube milk' more likely to win Brits than lab-grown meat

6

7

8

9

10