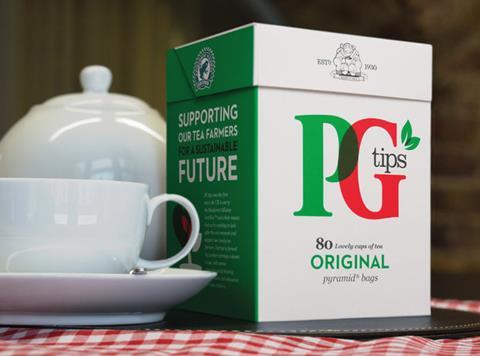 Unilever has revealed details of its tea suppliers, making the PG Tips owner the final supplier of a top-six tea brand to concede to such transparency.
The company – which also owns Pukka Herbs, Lipton, Lyons, Pure Leaf and Scottish Blend – has published a full online list of its global tea sources.
"A large amount of our tea is grown in our own plantations in Kenya and Tanzania," said Unilever, which buys the rest "directly from large tea producers, auctions or via brokers".
It went on to underline the importance of knowing "where our tea comes from as this is the starting point for any action that makes a positive impact where it matters most".
Unilever's move follows around eight months' of pressure on top brands by Traidcraft Exchange and its 'Who Picks My Tea' campaign to "bring about change for tea workers who are trapped in poverty in the Indian state of Assam".
Yorkshire Tea, owned by Bettys & Taylors of Harrogate, was the first to publish its suppliers' details in July 2018, followed by ABF's Twinings, Clipper, and Tata's Tetley.
This marked "a major shift towards transparency in the UK tea market, with more than two-thirds of tea drunk in the UK now coming from companies which have released the names of their suppliers", according to Traidcraft Exchange.
Head of campaigns Mary Milne said the development charity had "succeeded in putting a bit more power in the hands of the people who work on tea estates in Assam. They are the true experts and the only people who can verify the good practice claims that brands may make."
Last May, leading tea brands were forced to defend their ethical sourcing credentials in the face of a Traidcraft Exchange report highlighting the "appalling conditions" and "pitifully low wages" of workers on Assam tea estates.
It claimed estates "believed to supply UK tea companies" trapped female workers in an unchecked culture of surveillance and control by management, with pay below the local minimum wage levels, accommodation that was "often leaky and in a state of disrepair" and sanitation "minimal or non-existent with open defecation the norm when working".