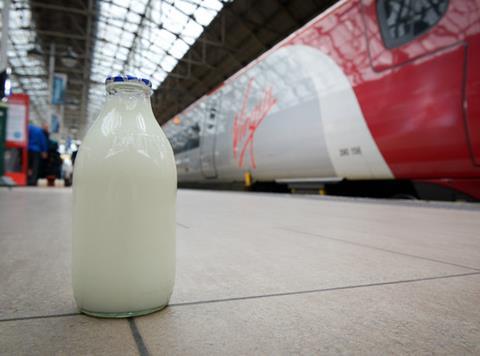 Virgin Trains has moved to source its entire on-board fresh milk supply from local producers.
The deal, struck with Enterprise Foods, will see fresh milk distributed from dairies within seven miles of the West Coast Main Line and delivered to the nearest Virgin Trains depot for distribution along the route.
Mortons Dairies in Liverpool, Yester Farm in Haddington, Edinburgh, Pensworth Dairy in Cheshunt and Tomlinsons Dairies in Wrexham will supply more than 300,000 litres across the operator's 300 train services.
The move will increase the business cost of fresh milk by 8%, Virgin Trains said in a statement.
The train company previously sourced the product from one national supplier.
"We've been buying local produce for some time now and the benefits we see to businesses and passengers alike is always positive – Thistly Cross Tilting Cider is a another great example, brewed in Scotland especially for Virgin Trains," Amanda Smit, Virgin Trains head of catering, said.
"By buying fresh local milk we know we can support local farmers in their business whilst also providing quality produce for passengers on our trains"
Simon McCreery, Yester Farm managing director added: "Partnering with a large organisation like Virgin Trains to deliver regional produce to customers is really exciting. We know that supplying on such a scale whilst remaining environmentally friendly is difficult and it's testament to Virgin Trains' ethos that they've made this move to support local farmers."