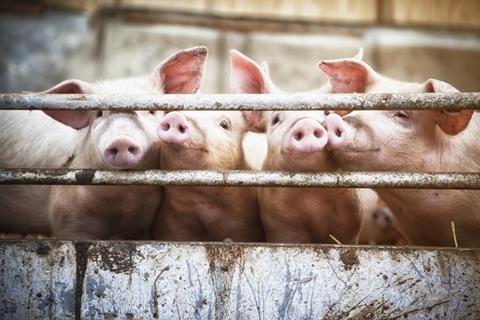 Waitrose has expanded the support package for pig farmers it first launched in November with a funding pledge of up to £16m to cover the sector's soaring cost of production.
The move will see the retailer cover the full cost of rearing and producing pigs across its 250 supplying farms – including for labour, feed, and fuel – "offering our farmers financial security when others are being forced out of the sector".
The package builds on previous commitments to offer a "sustainable" price for suppliers hit by a backlog of more than 100,000 animals on farm – caused by the collapse of exports to China, the subsequent flooding of the European pork market and a chronic shortage of butchers.
Waitrose extended its minimum price pledge in February. But with the crisis ongoing, and more than 10,000 backlogged animals now having been culled, farmers needed more of the retailer's help, said Waitrose executive director James Bailey this week.
The situation producers were faced with had been compounded by soaring production costs linked to the war in Ukraine, and as The Grocer reported earlier this year, many farmers were now struggling to stay afloat, the retailer added.
Waitrose stressed the package, the duration of which was open-ended, would "not detract from our promise to provide great value for customers or our pledge to always maintain our leading welfare standards".
And Bailey said the investment was "the right thing to do" and a "direct response to some of the most challenging conditions the pig sector has ever faced".
Calling on other food businesses to offer similar support, Bailey said he hoped "this will enable us to keep working with [its farmers] for decades to come, but we can't do it alone".
The issue was "industry-wide and we need the entire food industry and the British public to get behind us. If we don't stand united in supporting UK pork farmers and act soon, many businesses will be lost", he warned.
The move, which follows new funding commitments by Sainsbury's last month and Morrisons in March, was welcomed by NFU president Minette Batters. Waitrose had "acted thoughtfully and the move will inject much-needed confidence for their farmers", she said.
"We need all supermarkets to take similar action and create support packages that will genuinely come to the aid of British pig farmers in their hour of need – the rapid rise in farm costs need to be met or we risk supply into next year. I hope this move will inspire others to stand by the country's farmers, we owe them our support."
Her comments were echoed by the National Pig Association, which said Waitrose had recognised "the need to pay a fair price to their supplying farmers to ensure that they can continue to source British pork for their customers".
British pig farmers produced pork "to high standards but cannot continue to do so at such a significant financial loss", it added. "Waitrose has demonstrated its commitment and we now need other retailers to do the same before it is too late."
Farming minister Victoria Prentis, meanwhile, said she encouraged "and welcome action such as this which ensures fairness for farmers and supports high standards of animal welfare".