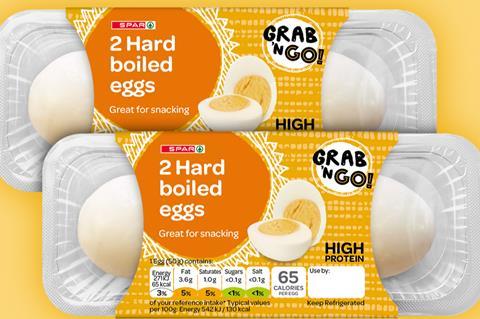 Spar has prevented 100 tonnes of black plastic from reaching landfill after revamping its own-label packaging with recyclable materials.
Last year the symbol group set out to eliminate black plastic from its range and has now replaced 53 Spar products with clear or recycled plastic.
Its bottled products including Spar water, dilutes, ciders and mixers now have up to 51% recycled plastic, as well as its ready meal trays consisting of 80% recycled material.
The symbol group has also added recycling information to more than 700 Spar own-label products.
"Eighteen months ago we made a huge commitment to eliminate black plastic from our Spar own-label packaging range by the end of 2020 and we are delighted to have achieved this well ahead of time," said Spar UK head of CSR Cath McIlwham.
It has pledged to completely remove single-use plastic from its own-label products by 2025.
It also hopes to have an average of 30% recycled content in plastic packaging, as well as ensure that it is 100% reusable, recyclable or compostable.
"We know that being environmentally friendly is a really important area of concern for our customers," said McIlwham. "Our research showed that our customers wanted more information on recycling and as a result we are putting the OPRL (on-pack recycling logo) on all our own-label packaging."
It has also signed up to The UK Plastics Pact, which is a collaborative initiative that started in 2018 and aims to create a circular economy for plastics. It brings together supplier, convenience and supermarket businesses from across the entire plastics value chain with UK government, NGOs and trade organisations to tackle the scourge of plastic waste.
"By joining The UK Plastics Pact, Spar is committing to defined targets," added McIlwham. "We will have access to expert advice and support on business planning workshops, which will enable us to achieve these targets. It will also provide us with technical advice on alternatives to hard-to-recycle plastics.
"This demonstrates our clear commitment to reducing our use of plastics and ensuring a more sustainable future."
Wrap CEO Marcus Gover said: "We are delighted to have Spar sign up to The UK Plastics Pact.
"Through this world-first pact we are working together with governments, citizens and business to transform the way we make, use and dispose of plastic so that we retain its value, but prevent it from polluting the environment."