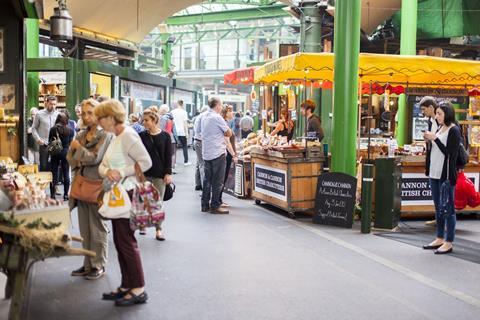 What an exhilarating experience I had strolling through Borough Market the other day, with the chant "oysters, oysters, get your oysters here!" echoing in my ears.
Tanks of live lobsters, trays of squishy-ripe Turkish figs, wheels of wine-matured cheese, the most traditional pork pies, hand-crafted breads, raw milk and butter, mountains of squashes, quayside-fresh fish, meticulously butchered meat, beautiful greengrocers' displays that primed the appetite, cured hams sliced on request, specialities from spots as diverse as Croatia and Calabria by way of Grenada… the lineup, even on a weekday, was absolutely stunning.
Of course, Borough has always been special. Squatting under the railway line, it has the effortless gritty authenticity once associated with Les Halles in Paris before it moved out to its new location at Rungis.
Borough honours the tradition of our veteran food markets, such as Leeds Kirkgate, but now that tourist numbers have radically reduced, you can really see the impressive calibre of its products.
Great markets cater for cooks first and foremost, not day trippers who come for a visual experience and to eat on the hoof.
I was so disappointed when I last visited La Boqueria in Barcelona, a gimmicky swarm of tourists swilling weird vermouths and overpriced seafood. Locals long since deserted it for neighbourhood alternatives.
The Markthal in Rotterdam, which opened in 2014 to capture food tourism, is a pricey Disneyland of gastronomy. Ditto Eataly, the chain of Italian marketplaces. These are soulless attempts to recreate the unforced appeal of famous food markets.
At Borough I saw people dragging shopping baskets on wheels. They hadn't come to gawp but to buy something for dinner.
Of course, Borough is showcasing Britain's artisan food scene, which notwithstanding our national taste for industrialised junk, is buoyant. From heritage foods such as hogget and cold smoked kippers to innovative crab butter and aged vinegar, it's clear that our small-scale food and retail scene is flourishing.
I'm not one for flag waving, but I'd take anyone, from any country, on a tour of Borough Market and brag loudly about it.