The health and wellness retailer is returning to its 19th-century roots but with a health twist, naturally
Holland & Barrett is going back to its roots as a Victorian grocer. In what executives say is its biggest category overhaul for a decade, the health and wellness retailer is to launch 500 new food and drink lines in stores throughout September, as part of a complete rebuild of its grocery capacity under the banner of 'Food that Loves You Back'.
It is its first major launch since owner LetterOne bought back £700m of the retailer's debt last year, and provides a significant sign of intent following a rocky couple of years defined by financial struggles and supplier fallings-out.
So, what's in the new launch? And what are the challenges for H&B in getting it right?
The initial 500 lines are just the first of three waves of grocery-focused NPD that H&B plans to release over the next year. While the later ones are not expected to be quite as big, they will still number in "the hundreds" says Lisa Tookey, H&B group growth and food director.
The first wave consists of 300 own-label products and 200 branded lines. For the first time since before the pandemic, it will see chilled and fresh products – making up 70 of the 500 lines – return to H&B stores.
"We're focusing on growing own label, making sure that it's exclusive and made from brilliant quality ingredients," Tookey says. "But also ensuring that we've still got some anchor brands that people expect to see in the range."
The business has also recruited a team of development chefs and onboarded 50 new artisan suppliers to manufacture exclusive own-label lines.
They include Jess's dairy, a small organic milk producer from Gloucestershire, which will manufacture H&B Kefir Drinking Yoghurt.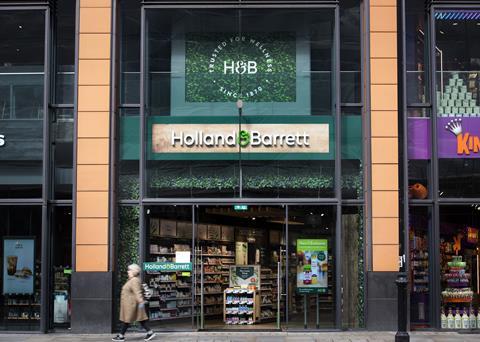 Nevertheless, 100 of the new own-label products come in at under £2.
Rather than aiming to compete with traditional grocers, H&B buyers have chosen to focus on "filling the gaps" in the market, with lines that complement its position as a health and wellness retailer, Tookey says.
Still, the initial lineup includes traditional store cupboard goods such as pastasauces and baked beans, while also spanning snacks, baked goods and drinks.
All the lines aim to fulfil specific health and wellness "missions" including gut health, speciality diets and free-from options.
They have also been tailored to cater for 10 specific allergies. A new chilled multi-seed loaf, for example, is suitable for Keto diets, while its H&B English- Style Must-Not has been developed as a gluten-free alternative to English mustard, a common allergen. The new lineup also features vegan cheese alternatives, including versions of brie and blue cheese.
The health theme is reinforced by 'Plant Points' on own-label packaging. A 30g pack of Berry Bites, for example, is worth seven points, while H&B's Fruity Sweet and Sour Gold Sauce is worth five. Customers are advised they should "think of Plant Points like your 5 a day" and "aim for at least 30 different plants a week to support your overall wellbeing".
To help convey such messaging in stores, all staff have been through a new training programme called 'Qualified to Advise'.
Holland & Barrett's Russian headache
June 2017: H&B is acquired by L1 Retail, the retail arm of the then Russian-funded investment fund LetterOne, for £1.77bn.
March 2022: The retailer distances itself from L1's Russian co-founders Mikhail Fridman and Petr Aven after the pair are sanctioned following Russia's invasion of Ukraine. Fridman steps down from LetterOne's board.
April 2022: The sanctions temporarily leave H&B unable to pay interest payments on a €415m loan after HSBC seek extra reassurance from LetterOne. The payments are eventually cleared.
November 2022: LetterOne buys back £700m of H&B's debt, leaving the chain debt-free. A promise to improve supplier relations follows.
August 2023: Accounts show the UK business fell to a £31.5m loss in the 12 months to 30 September 2022 – the financial year prior to the debt deal – down from a pre-tax profit of £43.6m.
The strategy
H&B chief commercial director Alex Dower argues that "food and vitamins and supplements should always complement each other". Yet when he joined the business in August 2021, it was clear that there "wasn't the expertise" to provide a competitive "end to end" food offer.
Tookey, who joined in March 2022 from Jamie Oliver Group, was one of several key appointments, alongside former M&S product development chief April Preston in the same year, to help build those capabilities in house.
In terms of the commercial strategy, H&B is targeting "low double-digit" sales growth during the next financial year, says Dower, building on group revenue of £725.3m in 2022. Food is the area that tends to generate the most footfall, Dower adds.
Now that it's debt-free, the business also plans to overhaul its non-food categories and increase its investment in tech, including a wider strategic review of H&B's 'Rewards For Life' loyalty scheme that's currently underway.
Yet the food push is a significant change of tack for Holland & Barrett. Despite its grocery origins – having been founded in 1870 selling groceries and clothing – H&B has in more recent years garnered a reputation as a specialist in health supplements and vitamins. Both Tookey and Dower concede that changing that perception, and demonstrating its heft as a grocer once again, is a significant challenge.
Retail consultant Karen Green, a former buyer for Boots and Tesco, believes the challenge will be lessened by the alignment of the food push with H&B's existing strengths, namely in speciality diets and wellness.
"The positioning is good," Green says. "It's a great opportunity for someone to own that space and be able to say 'we've got products that look after you and also taste good'."
Diet, health, and nutrition are also categories that continue to display "growth traits" says Shore Capital analyst Clive Black.
Fresh food challenges
But there are challenges. Holland & Barrett says the launch has rolled into 98% of its 800-store UK footprint. Such a huge rollout, to an array of store sizes, is no simple task.
The rapid expansion of fresh lines, and the return of chillers to stores in particular, could come with high waste levels, given staff will be unaccustomed to dealing with chilled lines, says Green.
The retailer removed chillers in 2020, affecting 26 producers, after sales were impacted by falling footfall in lockdown. The years that have since passed mean H&B is effectively "starting from scratch" in chilled, says Green, which will be a "huge challenge" in terms of food waste.
The move could also cast more of a spotlight on H&B's supplier relations, which have not always been a bed of roses. In November 2022, just as the retailer became debt-free, it apologised to suppliers over late payments extending past 120 days, as government data showed it paid almost 60% of invoices outside agreed terms.
The food overhaul has come with a renewed promise to improve relations with suppliers, which H&B is currently onboarding to a new portal intended to improve the transparency of its systems, including stock levels, ordering and payment.
The plan may be sound, but with supplier support fundamental to any major push in food, and stores adjusting to rapid change, so much will depend on the "follow-through", cautions Black.
Green agrees: "It could take a year to gauge success."