McCaskie Butchers boss Nigel Ovens recently had to make the biggest decision of his career: stick to his independent retail principles or accept the offer of a lucrative supermarket listing.
Ovens turned down the mult's offer in favour of the indie sector – a move in keeping with the history of McCaskie's, the business started by his grandfather almost 90 years ago.
It was founded by Mearns T McCaskie in 1935 in Wemyss Bay, a village on the coast of the Firth of Clyde. From the start, a core value was supplying the finest meat and meat products. It's a value just as relevant today, says Ovens.
Many of the recipes introduced by his grandfather have remained unchanged, but Ovens has continually tweaked others, such as its multi-award-winning haggis and black pudding.
In line with the company's heritage, McCaskie's offers only native Scottish breeds including Aberdeen Angus, Luing, Shorthorn and Belted Galloway.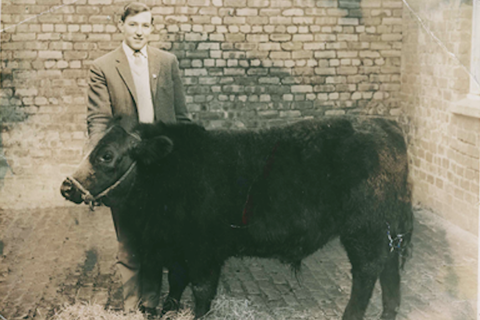 The business passed on to McCaskie's children, Ovens' mother Elizabeth and uncle Mearns. Ovens learned the butchery trade from Mearns before going to university to study retail management.
In 1998, following his graduation, Ovens and his mother bought out the other shareholders to take on the McCaskie's business themselves. It was a bold move at a time when many independent butchers were shutting down.
"We decided to go against the tide and invest heavily in the shop," says Ovens. That investment has since included a new shop front and the acquisition of the flat above the shop. The business then went onto buy the café next door and join the two operations.
The largest spend came in 2016, when a production unit was built on land behind the original shop and café. It was officially opened in 2018 by Princess Anne in her capacity as president of the Scotch Beef Club. But the work didn't stop there, with McCaskie modernising the shop and upstairs rooms two years ago to give the whole site a unified look.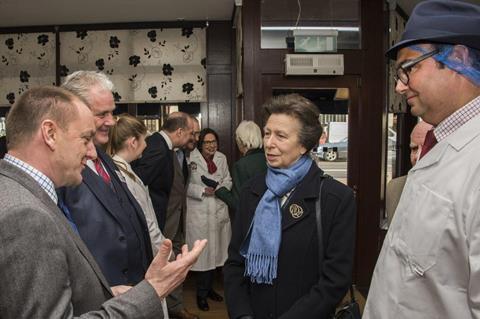 McCaskie's currently employs 25 people, many of whom have worked at the business for more than a decade. The long-service record is held by Ovens' mother, who has been with the business for about 60 years and continues to work from 7am to 6pm, five days a week.
In addition to a loyal local customer base for its shop and café, the business supplies other retailers and restaurants including Eusebi Deli, Monachyle Mhor, Seamill Hydro, Portavadie Resort, Nardinis and L'Escargot Bleu. Butchers in Scotland and England sell McCaskie's haggis and black pudding.
It was the recent opportunity to supply a supermarket chain that reinforced the business's commitment to supplying the independent sector. The retailer had wanted to carry a range of McCaskie products in 15 stores with the potential of increasing this to 30 sites.
"It was a sizeable and commercially attractive opportunity," says Ovens. As discussions progressed, McCaskie's struggled with the fact the move would go against its principles, he adds.
"Independent retailers don't have the buying power the major retailers have. So, competing price-wise is difficult to say the least. Where the independents can compete is by offering differentiated high-quality products with real provenance that aren't available in supermarkets."
Ovens feels that by offering products only to indie retailers, plus select hotels and restaurants, McCaskie's is doing "its little bit" to help the smaller companies that are so important to communities and the economy.
"Our key focus areas will be our across-the-counter sales, our online business and supply to the independent sector," he says.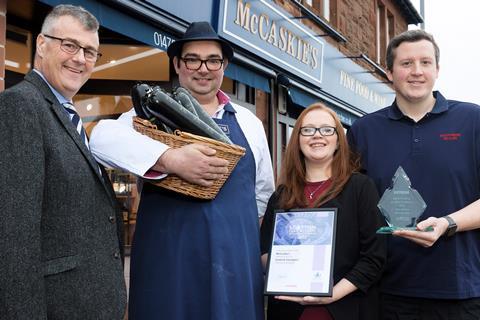 Ovens is also keen to raise the profile of the business and build on the publicity generated by a raft of Scottish Craft Butchers awards. It has been named Scottish national champion for black pudding twice, and national champion for haggis. With more than 20 national and regional awards in recent years, McCaskie's describes itself as the country's most awarded black pudding and haggis maker.
"Although we have won a lot of top awards for our beef, lamb, pork, puddings, bacon, pies and burgers, many people – even foodies – haven't heard of us," Ovens says. "We have taken on a digital agency to help raise our profile and will be investing more in advertising and marketing."
He also plans to make the café a destination venue by hosting special events and evenings, though this has been impacted by the industry-wide staffing woes.
The café had to close for several months during the pandemic and McCaskie has since had to build a new team.
"Like many other hospitality businesses, we have really struggled to get staff and still need to fill a few gaps," Ovens says. "It has been a challenge to keep the café operational."
And while the business is proud to be using some of Mearns T McCaskie's original recipes, it will also continue to develop new products.
"As per our heritage, everything will be hand-made in small batches using only the finest-quality meat," says Ovens. "Although we will grow, we won't compromise on our principles."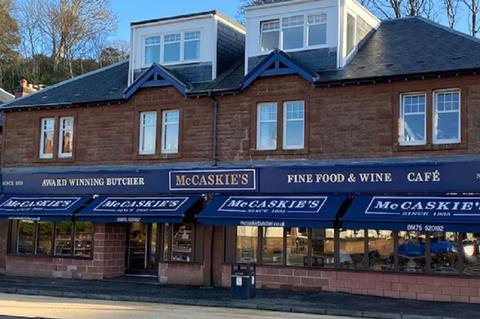 Are you a specialist retailer looking to source the best quality local and regional produce? Visit the Farm Shop & Deli Show 2022 to find trend-setting food and drink from hundreds of British suppliers, plus the latest technology and industry insight.