Italian coffee brand Lavazza this week officially opened a flagship store in the UK, promising "an immersive coffee experience".
Marking the first time Lavazza has launched its high street concept outside of Italy, it can be found in a three-storey site opposite the Liberty on Great Marlborough Street, central London.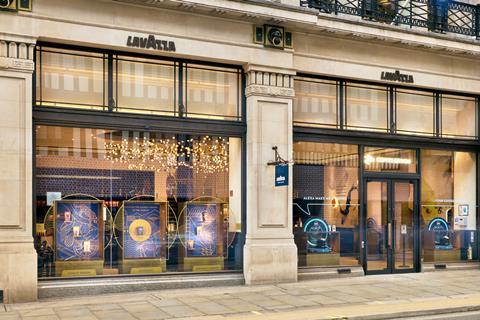 Coffee lovers are invited to "experience the extraordinary world of authentic coffee through an exciting journey of discovery".
From espresso to Italian regional coffee-based recipes, the store "celebrates the coffee bean in all its forms" says Lavazza.
Its London flagship store promises to offer contemporary design and "a welcoming and safe environment where Brits and international tourists alike can enjoy an original coffee experience that is truly distinctive to the brand".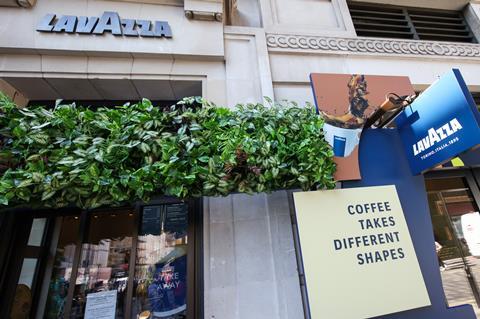 It will be "a completely different concept than what's currently available for the UK coffee lovers and enthusiasts" promises Pietro Mazzà, the brand's UK general manager & regional director for UK & Nordics.
The London store "will introduce consumers to the world of great Italian coffee, to be enjoyed in all its different forms – taking them on a journey from bean to cup and immersing them in the very best that Lavazza has to offer," he adds. "Not only through authentic coffee experiences, but also top gastronomy, design, culture and more."
Caffetteria
On the ground floor, visitors can take a seat in the Caffetteria café. The counter, designed by celebrated Italian architect Carlo Ratti, takes inspiration from the shape of the coffee bean and is made from a combination of brass and exhausted coffee powder.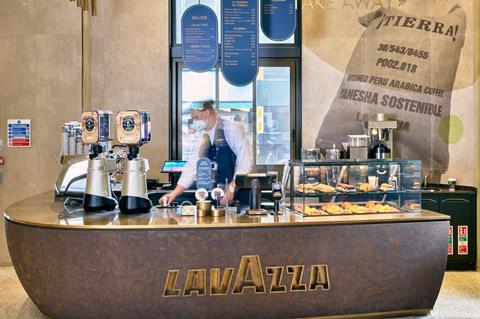 Ratti also conceived the flexible bench within the wider seating area, to ensure customers can be seated at a comfortable distance from other guests.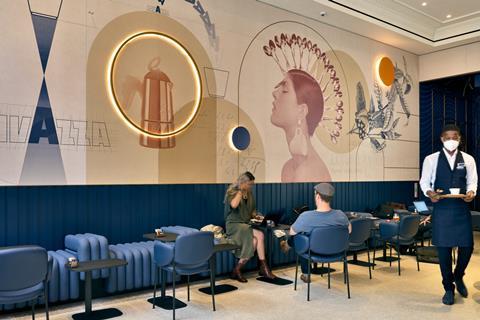 The area is also adorned with a customised chandelier, patented by Lavazza, made with 700 resin coffee beans.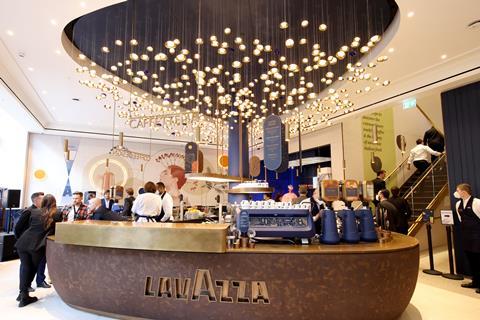 Patrons can select from a range of coffees, pastries and boozy 'coffeetails', such as nuvola spritz and negroni cold brew – paired with a selection of small bites.
Tasting sessions
In the grocery area, customers can participate in tasting sessions with a 'coffelier' – a sommelier of the coffee world. They will be guided through each blend in Lavazza's new 1895 range, experiencing aromatic notes across different preparation methods.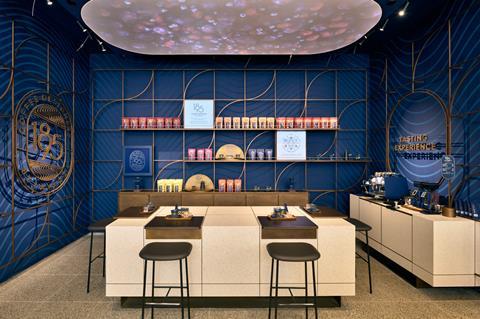 There is also an interactive installation above the tasting area, which projects the aromatic flavour notes of each blend on to the ceiling.
Dining
With coffee-inspired décor, the store's first floor restaurant offers a menu curated by Italian chef Federico Zanasi. Each dish is freshly prepared, blending high-quality seasonal ingredients with "elegance and a touch of unexpected flair".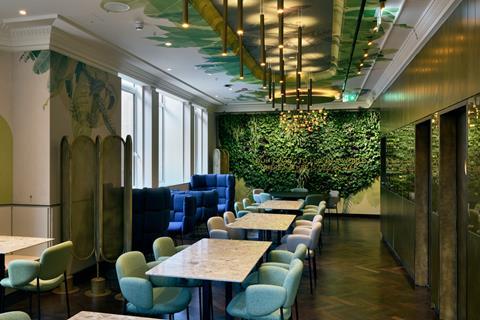 A 'living wall', made from real plants, is emblazoned with a 100-year-old quote from founder Luigi Lavazza: "I don't want to live in a world where nature is destroyed."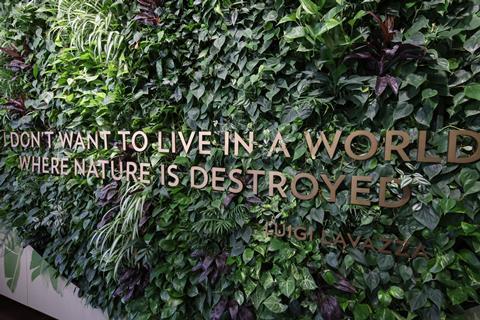 Interactive experiences
Lavazza, in partnership with Yahoo Creative Studios, has created content to communicate the brand's "unique approach to coffee". A new video series showcases three coffee-based recipes available in-store – including an espresso transformed into 'coffee caviar'.
There is also augmented reality game that will be live for three weeks from today (23 September). Londoners are challenged to find Lavazza-branded coffee cups 'hidden' throughout the city. They can be 'collected' and redeemed at the London store for a free coffee and automatic entry into a draw with prizes including Amazon Alexa-enabled coffee machines and a luxury weekend in London.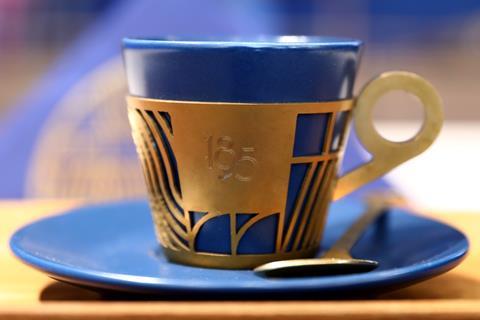 "As part of Lavazza's internationalisation process, the UK is one of the key markets for our business," says Gloria Bagdadli, global retailing director, Lavazza Group. "So, the Lavazza London flagship store represents a strategic investment for us as a global brand and reinforces our dedication to the local market."