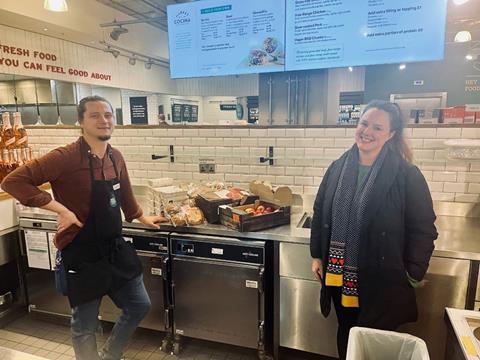 Whole Foods Market has extended its partnership with food redistribution platform Olio.
The Amazon-owned grocer will roll the platform across its seven London stores, following a successful pilot at its Kensington site.
During the six-week pilot, over 1.200kg of unsold food was collected and given to 439 local households. It helped the store avoid an estimated 5,000kg of CO2 emissions.
The new partnership will see Olio couriers – called 'Food Waste Heroes' – collect any unsold perishable goods from Whole Foods' stores. The products, which could include baked goods, meat, salads or deli counter items, are then redistributed to households local to the stores via Olio's app.
Whole Foods said extending the partnership would help prevent food waste at its stores.
"This partnership builds on our purpose 'to nourish people and the planet'," said executive leader of operations Shaun Coombes.
"It is now more important than ever to pull together to tackle food waste, and we are constantly exploring new ways to ensure we are delivering against this mission," he added. "This new partnership with Olio is one more step forward to ensuring any leftover perishable food ends up in the hands of those in the community who need it, rather than in landfill."
Whole Foods becomes the latest grocer to partner with Olio, joining Iceland, Tesco and One Stop. The app also has tie-ups with Pret a Manger, Compass Group, Chartwells and Eurest.
"We're delighted to announce this partnership with Whole Foods Market. Olio users will be very happy to see another retailer taking steps to be even more sustainable and reduce food waste," said Olio CEO and co-founder Tessa Clarke.
"Olio users living nearby to any of the Whole Foods Market stores will be delighted that they can now access high-quality natural and organic produce through the app for free. This is positive news for those feeling the hardships of the ongoing cost of living crisis and the recent food inflation increases that have caused grocery bills to skyrocket."