What's hot?
"We know that there's an ageing population and one of the interesting things about that is actually your taste buds change as you get older. That means that some people may find milk chocolate a little bit too sweet but they're not ready for dark chocolate and that's a great opportunity to innovate."
What's not?
"We know that consumers are eating less chocolate than they were five years ago and one of the drivers behind that is mindful snacking. So what's important is that when they do buy into chocolate that actually the taste is amazing so that gives us a really good opportunity to add value to the category."
What's next?
"30% of consumers are actively looking to cut down their sugar intake, so expect to see more chocolate offerings that are offering less sugar. We also know that portion control is really important and motivating particularly if it's under 100 calories so again I would expect to see more entrants. Finally, added nutrients, so things like protein, are more and more coming into mainstream chocolate, but the most important thing for all of these is that we never ever compromise on taste."
Innovations: five new premium chocolate bars for grown-ups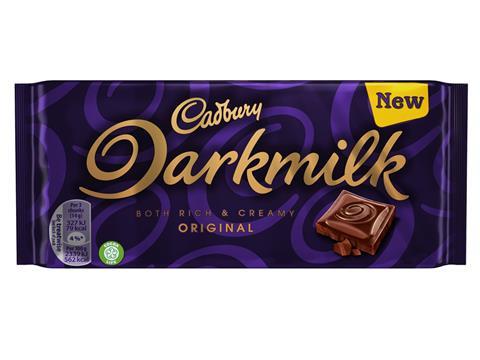 Darkmilk
Brand: Cadbury
RSP: £1.49/85g
This hybrid chocolate is made with 40% cocoa solids and 14% milk solids to appeal to customers who find dark chocolate too bitter. Available in Original and Roasted Almond flavours, the sharing bar is set to be followed in the new year by a single. Currently available in Tesco.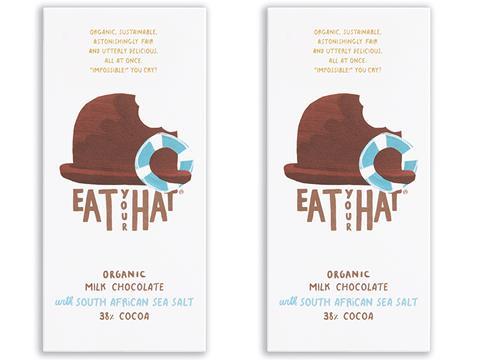 Milk Chocolate with South African Sea Salt
Brand: Eat Your Hat
RSP: £3.95
This new fair trade brand from Traidcraft is made using sustainably sourced, organic ingredients and is free from GMOs, artificial colours and preservatives. The seven-strong range includes milk and dark chocolate bases and premium flavours including Sri Lankan Cardamon, Brazilian Mandarin and Sri Lankan Turmeric and Black Pepper.
The range is wrapped in compostable plant-based packaging and is available from Ocado and Traidcraft.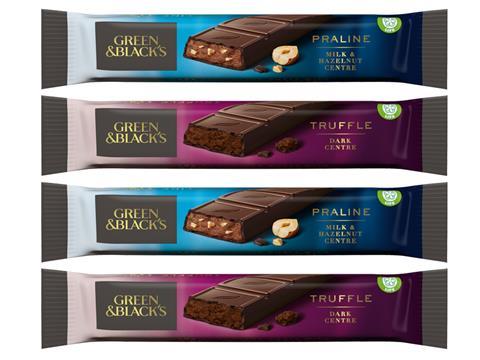 Green & Black's singles
Brand: Green & Black's
RSP: 89p
These are the first single Green & Black's bars to launch in the brands 27-year-history. Available in two variants: Truffle, dark chocolate truffle in a dark chocolate shell, and Praline, milk chocolate praline with roasted hazelnut pieces in a dark chocolate shell, the brand aims to encourage shoppers to trade up on impulse treats. They're currently available in Tesco.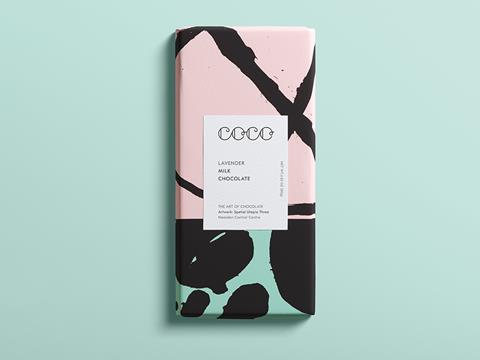 Lavender Milk Chocolate
Brand: Coco Chocolatier
RSP: £4.50
This Edinburgh-based boutique chocolate brand has worked with artists to create packaging artwork for each of the 12 new flavours in its newest collection. The sustainably-sourced range includes Passion Fruit & Honeycomb, Cold Brew Coffee and Isle of Skye Sea Salt flavours and is currently listed in Selfridges and Urban Outfitters.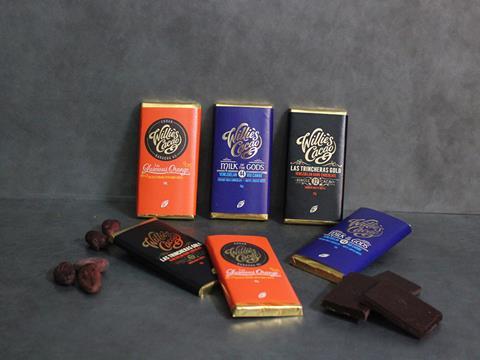 Willie's Cacao Bars
Brand: Willie's Cacao
RSP: 85p/26g
With over 400 flavour notes, these bars take 100 times longer to make than high sugar chocolate, according to the brand. The bars are aimed at mature palettes and contain no additives, vanilla, soya lecithin to prevent masking the flavour of the specific bean. Flavours include Luscious Orange, Milk of the Gods and Venezuelan Las Thrincheras Gold and they're currently listed in Sainsbury's.