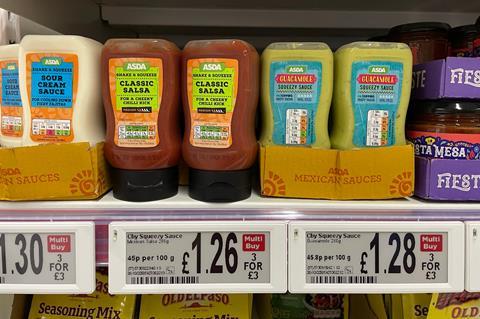 Asda has launched what is believed to be the biggest trial yet of electronic shelf edge labels (ESLs).
The retailer has installed more than 23,000 new price tags at its Stevenage store and has been testing how the technology can be used in major price campaigns such as its Rollback.
Asda said displays made of 'e-paper' could be quickly changed at the touch of a button allowing whole areas of the store to be updated with price changes within minutes and protect the integrity of the retailer's EDLP strategy.
It is also testing 'future of retail' innovations, such as QR codes that can display allergen information or LEDs that flash when a home shopping picker enters an aisle to quickly locate items.
Asda has previously tested the technology, along with a raft of other supermarkets including Morrisons, Tesco and Waitrose, but the installation at the supermarket's Stevenage Tech Store represents the largest of any UK grocery retailer.
The supermarket is working with SES-imagotag, a leading provider in electronic shelf labels and digital solutions, as well as electronics giant Panasonic.
Asda is also introducing technology previously trialed by Walmart in the US, Canada and Japan.
The supermarket has not yet given a date for a wider rollout of the technology.
Supermarkets have been exploring ESLs for the past few years, amid concerns that price promotions manually updated in store are often out of date.However, the new tech has also sparked suspicion that they might lead to so-called 'surge' pricing, whereby the prices of goods change at the flick of a switch to exploit consumer demand.
"It has been great to partner with Walmart and suppliers SES and Panasonic on this project, using their wealth of knowledge to ensure that the installation was a success," said James Sands, project manager for innovation at Asda.
"As one of the largest in-store trials of this technology, we want to understand how it interacts with our existing systems and where we're able to enhance our in-store processes through the additional functionality ESLs offer.
"Our Stevenage Tech Store customers and colleagues always play a big role when it comes to understanding the benefits of any trial we launch at this store. We hope they will engage with the new electronic price tags and give us their feedback so we can 'test and learn' from this new technology."