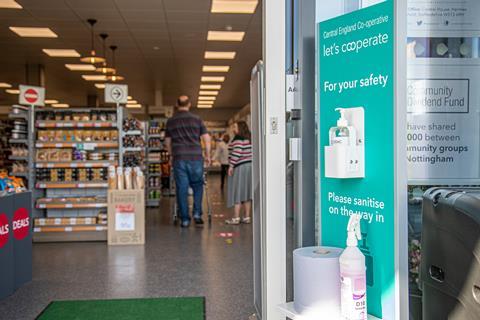 Signage and stores have been reformatted to aid the new measures, which include one-way systems

All 430 of the society's stores now have permanent hand sanitiser stations in place
Central England Co-op is rolling out a new phase of social distancing measures across its stores as England starts to emerge from lockdown.
Permanent hand sanitiser stations have been installed at the front of all the society's 430 stores as part of the new move.
A one-way system is also now in place, with signage and stores reformatted to aid the new measures.
The retailer is asking customers to help its staff and fellow shoppers by adhering to all the social distancing guidelines in place "to keep everyone safe and healthy during these uncertain times".
"Nothing is more important to us all at Central England Co-operative than the safety of our colleagues and customers," said CEO Debbie Robinson.
"We're closely following government advice in our approach to social distancing and have now rolled out a range of new measures for our stores to sit alongside what we already have in place.
"We now ask all of our customers to co-operate with these measures to keep us all safe and allow us to continue to serve our communities."
Customers can keep up to date with what is happening in their local community by visiting a dedicated Central England Co-op online hub.