In the space of a year, Poundland has added multi-price points, chilled food and booze. The Grocer visited its two new 'destination' store formats to see the results
Poundland is in the midst of what it calls the "biggest transformation in its history". If it's the biggest, it must also be the fastest. In the space of a year, it has introduced new multiple price points, acquired frozen specialist Fultons Foods, and unveiled two new 'shops in shops': one offering frozen and chilled food, the other booze.
That comes alongside splitting the estate into three store types: 'core', 'convenience' and 'destination'.
Visiting its two destination stores, at Tunstall's Jasper Square Retail Park and Stoke-on Trent's Festival Retail Park, it's clear how far Poundland's ambitions stretch.
Measuring at around 10,000 sq ft, both stores have ample space to test out Poundland's latest innovations. "We're handing space back to the customers," says Poundland transformation director Mat Ankers.
The larger premises certainly have a different feel to a typical high street Poundland. Poundland MD Barry Williams says shopper behaviour is different, too. "We're seeing a much higher basket spend.
"We're handing space back to the customers"
"Our previous Tunstall store was 3,000-4,000 sq ft and 400 yards away. Just making that move off the high street into a retail park and a bigger store that can house the full proposition makes the world of difference."
Crucially, it allows Tunstall's first floor to be dedicated to Pep&Co, a 'shop in shop' for value fashion. In September, that expanded to include homeware.
Poundland already did homeware, but that range is "functional" while Pep&Co's is more "decorative" and luxurious, says Ankers. A slimmed-down range has rolled out across Poundland's entire 800-plus estate, while 200 stores have it all, including this one.
What's left of it, anyway. "We're a bit gappy on availability," acknowledges Ankers. "The rate of sale has been significantly higher than anticipated, which is a great place to be, so now we're chasing the volume."
Frozen & chilled
Downstairs, the Tunstall store holds probably the most significant new development in Poundland's transformation: the frozen and chilled range. It's a substantial proposition, contained in about 25 upright freezer and chiller units that extend the length of the aisle.
Bisto ready meals, Rustlers hot dogs, Chicago Town pizzas, pre-packed sandwiches and drinks are among the 250 chilled and 200 frozen SKUs. There is even a recently introduced free-from range.
Granted, there is only a limited range of fresh fruit & veg, kept in the fridge. But Ankers stresses shoppers can always count on finding core products. "We might not always have Cathedral City, but we'll always have a mid-sized family block of branded cheese," he says.
The fixture includes some 'Wow' deals, bought from Fultons at a one-off spot price and available on a 'when it's gone it's gone' basis. Today, Goodfella's pizzas are just £1.50. "That's roughly half the price of everywhere else," says Ankers. "We do when-it's-gone-it's-gone deals very well but we don't usually call it out, whereas here we're telling the customer this is special."
Meanwhile, over in Festival Park, the spotlight is on BWS. Again, it's a substantial fixture that could rival a convenience store. The range includes a four-pack of 568ml Carling for £4.75, a 75cl bottle of Blossom Hill red for £5 and a 35cl bottle of Gordon's Pink Gin for £10.
"Virtually all dollar stores in the US have migrated away from the single-dollar proposition"
The BWS fixture is only in three stores – this one and branches in Cannock and Stockport – and Poundland is plainly cautious about how it will evolve. "We won't necessarily launch it as it is. This is about customer feedback," says Ankers. For him, it's all part of Poundland's "test and learn" process, under which not all elements will necessarily survive.
But even if some fixtures are up for debate, boss Williams has a clear model for the business as a whole. "We've been really interested in the evolution of dollar stores [in the US]," he explains. "Virtually all of them have migrated away from the single-dollar proposition. Probably the one I admire most is Dollar General."
Dollar General's latest concept store is Popshelf. It sells home décor, health & beauty and cleaning products, mostly under £5, to wealthier suburban shoppers.
A glimpse of Poundland's next move? Don't be surprised. "They're probably a couple of years ahead of us," says Williams.
The growth of Poundland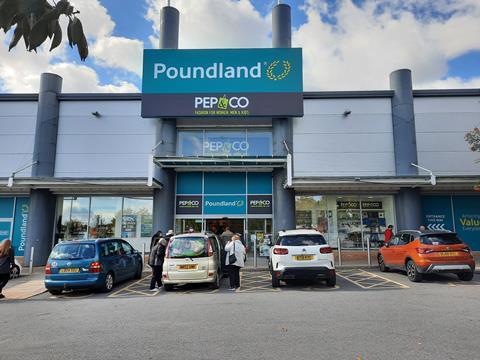 Both stores are in former Next units. At Festival Park, a full glass frontage lets light flood in on both floors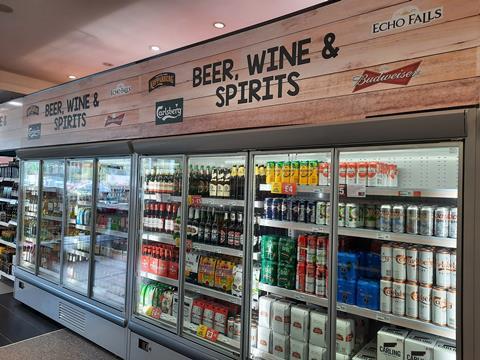 The BWS aisle is very much a pilot. The proposition may not be quite right yet but "we'll get there" says Williams
"Pep&Co is becoming a recognisable brand in its own right," says Ankers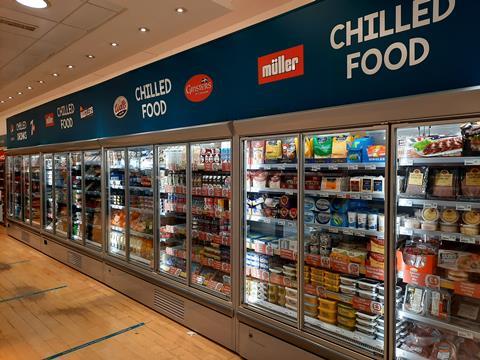 The frozen and chilled banner highlights the range's branded focus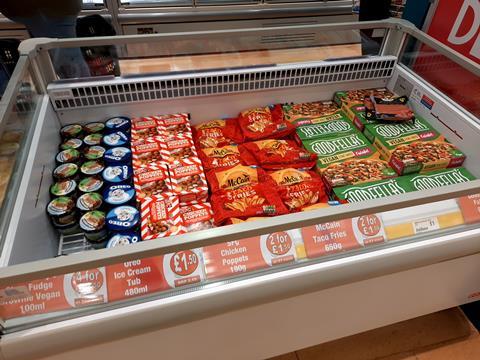 A chest unit changes from freezer to chiller with the latest deals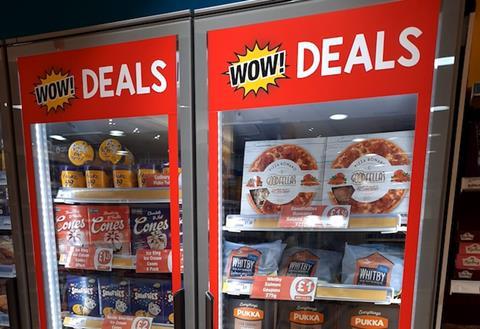 Short-term deals lend themselves to frozen "because you can store it," argues Ankers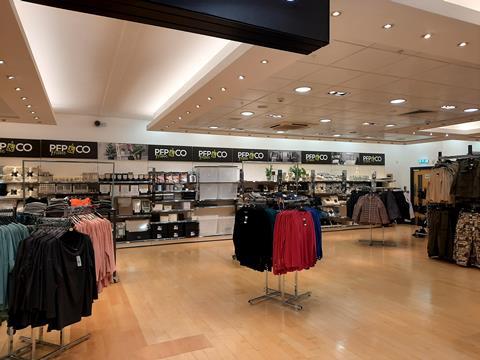 The more spacious Poundland in Tunstall has "quite a few similarities" with Dollar General, says Williams