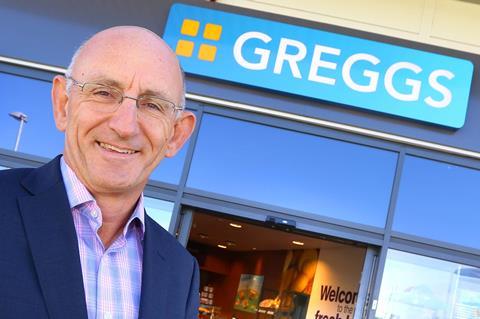 Greggs is pushing ahead with ambitions to expand its store base in supermarkets in a bid to recapture growth after the coronavirus outbreak wiped out profits.
The bakery chain slumped to a £65.2m loss in the six months to 27 June, with the closure of its 2,000-strong estate as the UK went into lockdown on 23 March leading to a 45% collapse in revenues to £300.6m in the first half.
The pre-tax losses compared with a profit of £36.7m in the same period a year ago and record full-year profits of £108m announced in early March.
Greggs has now reopened the vast majority of sites, including four concessions in Asda superstores, which were launched on a trial basis in March.
CEO Roger Whiteside told The Grocer today while store expansion plans were temporarily on hold because of the Covid-19 crisis, the group hoped to open in more Asda sites.
"We are encouraged by initial results in Asda and we want more," Whiteside said. "We are talking to them about how we might go forward, and, hopefully, it will give confidence to other supermarkets to consider that option as well."
Whiteside added supermarkets had proven their resilience during the pandemic with demand and customer numbers remaining strong.
"We have opened these concession shops even though social distancing was required," he said. "And we think it points the way to more opportunities of that type in the future."
Greggs reported an "encouraging" sales trend since stores began reopening in June, with revenues at 72% of 2019 levels in the most recent week to 25 July, which was up from 68% in the week to 11 July.
However, the business needs the figure to climb to 80% before it can start to break even.
Whiteside added sales would continue to be constrained while social distancing remained in place, hampering capacity and customer demand.
Greggs is currently relying on the government's job retention scheme, with 25% of staff remaining on furlough.
The business has cut its available range of products to help reduce waste, with a number of manufacturing staff yet to return to work, while some shops remain closed and others operate with fewer workers to maintain social distancing.
Whiteside didn't rule out possible redundancies later in the year once the furlough scheme ends if demand failed to pick up.
In the first half of 2020, Greggs opened 20 new shops and closed another 45 shops, giving a total estate of 2,025 shops. Over the year as a whole, the business expected to open about 60 outlets and close 50.
The temporary closure of shops during lockdown resulted in a number of one-off costs in the first half, including £9m for unusable stock.
It was also hit with £7.4m of impairment charges for the stores closed permanently, and additional safety measures such as PPE for staff, protective screens and signage cost £2.5m, with another £5m expected to fund hand sanitiser and more hygiene measures in the second half of the year.
More than £4m of cash flowed out of the business each week while the stores remained closed for rent and other operating costs, with a total net cash outflow of £118.4m in the half.
As well as using the government's furlough scheme, Greggs also arranged £150m of financing through the Covid Corporate Financing Facility to shore up liquidity.
Net debt in the group now stands at £26.2m.
The company also benefited from £25m of business rates relief and is in discussions with landlords over rent reductions.
The board also cancelled the 2019 final dividend to preserve £33m cash and no interim dividend was declared.
"It remains very difficult to predict the outlook and likely performance of our business, and we recognise the possibility of further lockdowns either nationally or regionally," Whiteside said.
"However, Greggs is now well prepared to deal with the challenges of social distancing and operate through the conditions we are faced with. Greggs remains a much-loved brand with long-term growth opportunities and the business is better placed to adapt to new conditions than ever before."