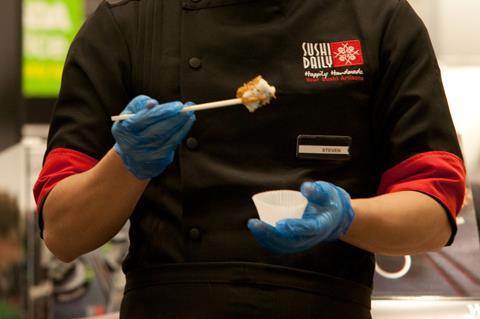 Sushi Daily owner KellyDeli has opened two new counters with Asda.

The retail giant's Kent-based Ashford and Kings Hill stores have become the sixth and seventh to open as part of the collaboration, which began in Bristol in September 2018.

Customers will be able to choose from an exclusive menu of handmade sushi offering snacks, meals for one and larger sharing products.

Options include Teriyaki Chicken Classic Roll (rsp: £2), a Tokyo menu with cooked and raw fish sushi (rsp: £5.90) and a 20-piece Hachi Menu with four types of sushi (rsp: £10.90).

"Our sushi artisans begin each day with an empty fridge, cutting all fish and vegetables themselves, as well as cooking rice and rolling sushi, to create our menu of over 100 recipes," said Sushi Daily MD Daniel Coole.

"It's fantastic that Asda recognises the benefits of our ethos for its customer base."

KellyDeli also operates seven counters in Sainsbury's, 90 in Waitrose, one in Debenhams and 800 across Europe.