Krispy Kreme is rolling out new digital doughnut display cabinets to 15 Tesco stores this month, with a view to a further nationwide distribution.
The new cabinets come with digital screens to allow tailored marketing, as well motion-activated digital shelf edge labels offering product information – including full ingredient specifications, which allow customers to check for allergens.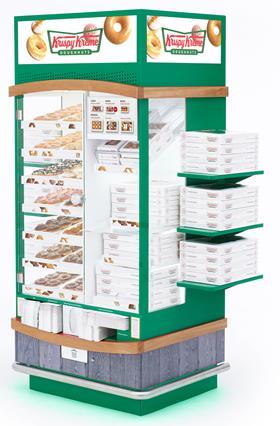 Krispy Kreme said the display screens would provide specific tailored content depending on the store, the time of day, and the season. It has identified 10 core marketing opportunities throughout the year, such as the introduction of mini doughnuts this month and activity around Valentine's Day.
"We are absolutely thrilled to be partnering with Tesco to introduce our first technology-focused cabinet into the Krispy Kreme world for our customers," said Krispy Kreme UK sales director Suk Nicholas.
"We are only at the start of this journey and there are huge opportunities to further develop the on-screen content to surprise and delight our customers at the point of purchase."
Tesco senior category buyer Amanda Hart added: "Tesco is delighted to be partnering with Krispy Kreme to trial these new state-of-the art cabinets, allowing us to offer our customers more choice and bring a bit of theatre in to our stores as well."