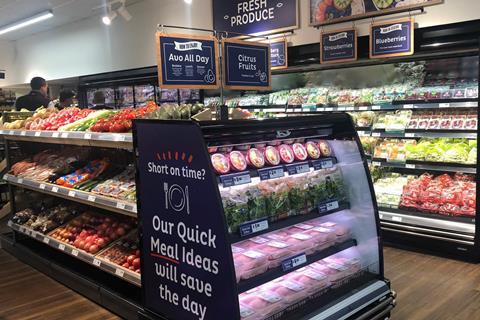 I often say that it takes 'will plus skill' to run a successful retail business. This is never more important than today, given the need to meet fast-evolving consumer demands by blending digital smarts with core merchant skills.
So, I was both heartened and proud to see the talent and skill, combined with the will to innovate, demonstrated by the work of former colleagues during a visit to Australia recently.
Most notable was a new local Metcash store format near Sydney's Bondi Beach that has been specifically tailored to meet its reputation for fresh and healthy living. I was invited to visit it just after launch.
The Fresh Pantry is a 240-300 sq m outlet designed to meet two distinct shopper missions: now or later meals for breakfast, lunch and dinner; and full shopping trips at competitive prices with locally sourced products.
Sales from specially marked products will go back into the community to fund local projects. Self-serve and conventional checkouts accept Alipay – a first in Australia – adding digital speed, convenience and choice.
(To that end, I unfortunately wasn't able to visit the country's first ever cashless 7-Eleven store, which also opened in Melbourne while I was there. But it will definitely be on my 'to do' list for my next visit.)
The Fresh Pantry features a large range from local suppliers, including gluten-free and healthy options such as free-range meats. I also noted it catered to the growing demand for meat-free alternatives. A new range of vegan ready meals from The Green Lion pub in Rozelle, Australia's only vegan pub, for example, is exclusive to The Fresh Pantry by IGA. IGA is Metcash's largest banner, with £3bn in sales last year.
With the project being led by Metcash CEO Jeff Adams, The Fresh Pantry doesn't disappoint in drawing on his extensive expertise gained while developing small stores in the UK, US, Thailand and Turkey.
Managed by my vastly experienced former Tesco colleague, Paul Keaney, who is new channels general manager at Metcash, it is designed to deliver a scalable proposition that will broadly benefit its wider network.
I was also thrilled to see Pablo Artica on the team, as Metcash small format operations manager. Pablo is from California and was the manager of Fresh & Easy's top store before becoming a district manager.
I met many other ex-colleagues and friends in various senior positions in Australia and New Zealand retail on my travels, and was pleased to see their efforts as part of a progressive business equipped with global talent.
The Fresh Pantry is part of new store format and ownership model trials across Metcash's collection of retail brands, unveiled as part of a five-year plan last year to transform its food, drink and hardware divisions.
As a food, drink and hardware wholesaler with operations in Australia, New Zealand and South Africa, Metcash supports a network of over 1,600 independent stores with the widest distribution network in Australia.
It shares competitive challenges with UK grocers, from local rivals Woolworths and Coles, and international entrant Aldi. So, Metcash is rightly focusing on smaller stores, as the fastest-growing format globally.
As such, the group is looking to capitalise on global industry trends, such as the demand for small-format stores in more convenient locations that offer the modern shopper local, healthy and convenient options.
The Fresh Pantry proves the growing importance of will plus retail skill. It recognises price alone is not enough to gain customers' trust today; they want relevant offers that recognise their habits, preferences and custom.