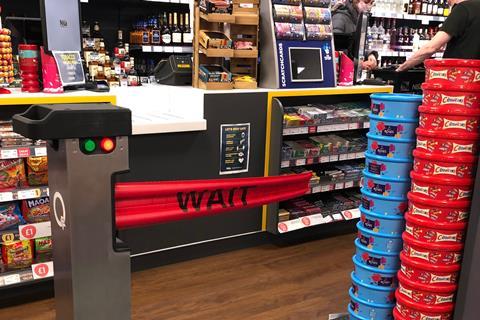 Inflatable barriers are being trialled at a Nisa store to ensure social distancing between customers.
The barriers – made by Leeds company Airbar-Q – have been installed at the entry door to the store in Leamington Spa, as well as in the checkout queueing area.
When the store has reached capacity or an area is getting crowded, a staff member hits a button on a remote control that sees the barrier arms fill with air and block entry.
Store owner Gurpal Jhutty said the technology was helping manage the flow of customers around the aisles and "working really well".
"We were looking for something not too permanent, and portable, which these are. They've been a big hit with customers, it's a cool gadget and the finishing touch to the design of the store," Jhutty said.
"We've had them on a trial basis, and it's going to come down to cost now whether we carry on with them. But with the expectation that lockdowns and social distancing will continue for at least a few months, we will need a solution of some kind," he added.
Another trial was conducted over Christmas at a garden centre in Derby, in which the barriers were installed at the ends of popular aisles. Airbar-Q said it was in close talks with major supermarkets to see the solution rolled out at aisle ends in stores.
"You can put in four barriers at each end of an aisle, and when it reaches occupancy the barriers go up and people can queue outside of them," said Airbar-Q commercial director Miles Featherstone. "It stops people congregating."
The company is working with people-counting technology vendor Irisys, and Ocucon, the company that developed Aldi's traffic light system, so the solution can be fully automated.
"It's a physical barrier that is much more obvious than traffic lights, although it does have lights too and we're looking at audible add-ons as well," Featherstone added.
Airbar-Q is now making its product widely available following several product development trials. It is offering the inflatable barrier units for purchase or on a subscription basis.
Retailers are working to better maintain social distancing in stores, something the solution could assist with, Featherstone said.
"It's been designed and developed to reduce the burden that current restrictions hold on many retailers. Having at least one staff member manage customer numbers at each door as well as at checkouts and around the store is a quick-fix solution to what may become a lengthy problem.
"The current marshalling method puts staff and customers at a higher risk of infection and doesn't guarantee the accuracy of the number of people within the store, in turn putting the public at a higher risk," he said.