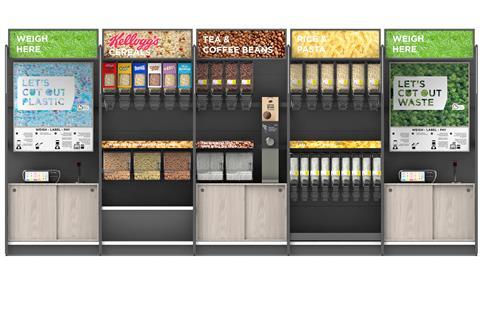 Food giants Unilever and Kellogg's have joined forces with Asda to launch a new sustainability trial store in Leeds.
Under the trial, customers will refill and weigh their own products to save on plastic packaging. Kellogg's Coco Pops and Rice Krispies cereals and Unilever's PG Tips tea will be dispensed by machines, as will a raft of own-label Asda products including coffee, rice and pasta, to get rid of the need for plastic. Asda said if the trials were a success after three months they would be rolled out across its wider store estate.
The trial, which will launch in May, will see the Middleton store converted to house banks of dispensers and weighing machines, with customers urged to bring their own containers or use those provided at the store.
Customers who do not want to take part in the sustainability trial will still be able to purchase the products in the usual way.
The move follows a call by Asda CEO Roger Burnley in October for suppliers to "take a step into the unknown" and speed up their reduction of plastic.
In an open letter to suppliers, Burnley said the industry had been too focused on producing packaging that was simple for consumers rather than good for the environment. He urged suppliers to come forward with new ideas for Asda to trial.
Asda said the converted Middleton store would also increase the amount of loose produce on offer, with items such as cucumbers and mushrooms being taken out of their plastic packaging.
There will also be a range of new recycling facilities, including a reverse vending machine for plastic bottles and cans.
It is also set to trial a "naked florist" offering plastic-free flowers.
Asda's move follows that of Waitrose, which last summer launched its Waitrose Unpacked format at a test store in Oxford, which was later rolled out across three more stores.
Its stores feature dedicated refillable zones including dispensers for dried products, coffee, wine and beer refills, as well as Ecover detergent and washing-up liquid refillables.
Waitrose said there had been "an overwhelmingly positive response" to the changes in store and that it planned to announce further steps early this year.
"We're on an ongoing quest to remove and reduce the amount of plastic in our business – and to find new ways to help our customers to reuse and refill our products. It's a journey we can't go on alone, which is why we invited our suppliers to innovate with us and I'm delighted that household names like Kellogg's and Unilever have joined us in testing new ideas and approaches to sustainability at our Middleton store," said Burnley.
"Over the coming weeks and months we will be testing and learning from the customers in Middleton to understand how we can reduce our environmental impacts whilst still maintaining the great service and quality our customers demand. Our first priority will be to look at how we can reduce and remove plastic and I am excited to learn from our customers and see where this journey will take us."