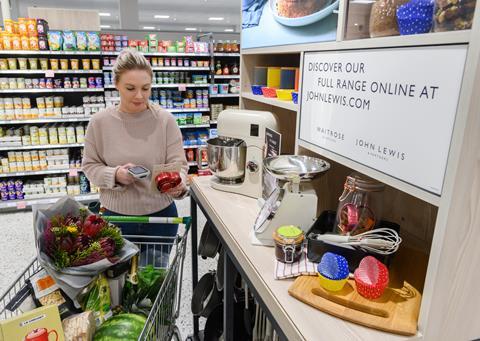 Waitrose is to introduce more than 1,600 John Lewis products in its Lincoln store as part of a trial to offer new services and experiences, as the business prepares to bring the two brands closer together.
The tailored range, which includes gifting, home making, kitchen gadgets, cookware, dining and seasonal lines, will be integrated around the store on displays alongside relevant Waitrose products.
There will also be a dedicated John Lewis area stocking some lines and a new 'Partnership Service Desk' where customers can book free and paid-for events, pick up click & collect orders and pick up Waitrose 'Entertaining' orders.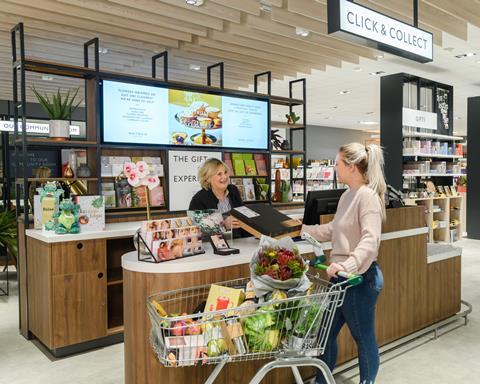 The Lincoln shop, which has also undergone a major makeover including a new-look café, new fresh service counters and a new bakery, will also host special customer events led by partnership staff from across the business. It is the first time Waitrose has offered the service in store.
Wine and gin tastings with a Waitrose drinks specialist and festive bouquet and wreath-making courses are the first to be offered, with fashion talks, calligraphy classes, barista workshops and photography courses planned for the new year.
A new community room has been installed at the store to host the events.
A second trial will launch at its Lymington store on 29 November to assess how the format and experiences can be adapted for smaller shops within the estate, with a Christmas cheese board creating course initially available. The shop will also stock about 750 John Lewis lines and include the new service desk.
If the trial is successful, the retailer has identified up to 50 shops that have the space required to roll out the concept.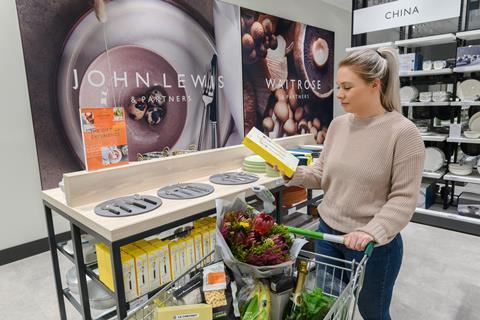 A separate trial at the John Lewis Southampton store will introduce the first-ever Waitrose Cookery School inside a John Lewis & Partners shop. The store will also experiment with an "experience playground" where specialists will advise shoppers on wine, gardening, fashion, make-up, interior design and technology.
The customer-centric concept shop opens tomorrow (19 November) and includes a new farm shop and roof garden from the partnership's Leckford Estate.
"Our ambition is to bring both the John Lewis and Waitrose brands together to drive a stronger combined proposition for our customers and give shoppers even more reasons to visit our shops," said Simon Burdess, director of customer experience for Waitrose & Partners.
"The trial [in Lincoln] has huge potential to elevate the partnership offer and our partner expertise to change how both Waitrose and our customers see visits to the supermarket in the future."
The trials are part of the Future Partnership plan announced earlier this year, which saw a radical shake-up of the group's management structure, with John Lewis and Waitrose to be managed and operated as one business by a single executive team from February.