Carluccio's is trialling three new formats at Sainsbury's, including a café to take on the 'high street brands'
If the late Antonio Carluccio had opened a café, this is what it would look like. That's the basic premise behind the cool 900 sq ft space that is Caffè Carluccio's in St Albans. All the hallmarks of the brand are clearly visible – from the trademark colour scheme to the Italian-inspired ciabatta options and Carluccio's "signature real Italian coffee".
"The coffee shop's got a real Italian feeling to it and it's true to Carluccio's heritage," says Satnam Leihal, MD of Carluccio's parent Boparan Restaurant Group, who has been busy working behind the scenes for the launch of the café on 3 June. "So when you walk into Caffè Carluccio's, you know it's part of the family."
Leihal hopes to attract Carluccio's aficionados to its all-day breakfast and light meal menus, available to eat in or take away. But there is one crucial, strategic difference to the rest of the family: this plot is sitting in a Sainsbury's superstore.
It's all part of a wider trial to test out Carluccio's formats in a supermarket setting. A new hot & cold in-store deli concept – Carluccio's Counter – will debut later this month in Sainsbury's Leamington Spa superstore. That will be followed by the opening of a multi-brand concept in July at Sainsbury's Selly Oak superstore, dubbed 'The Restaurant Hub' – featuring Carluccio's alongside fellow restaurant brands affiliated with BRG such as Gourmet Burger Kitchen (rescued in October), Slim Chickens, Harry Ramsden's and Ed's Easy Diner.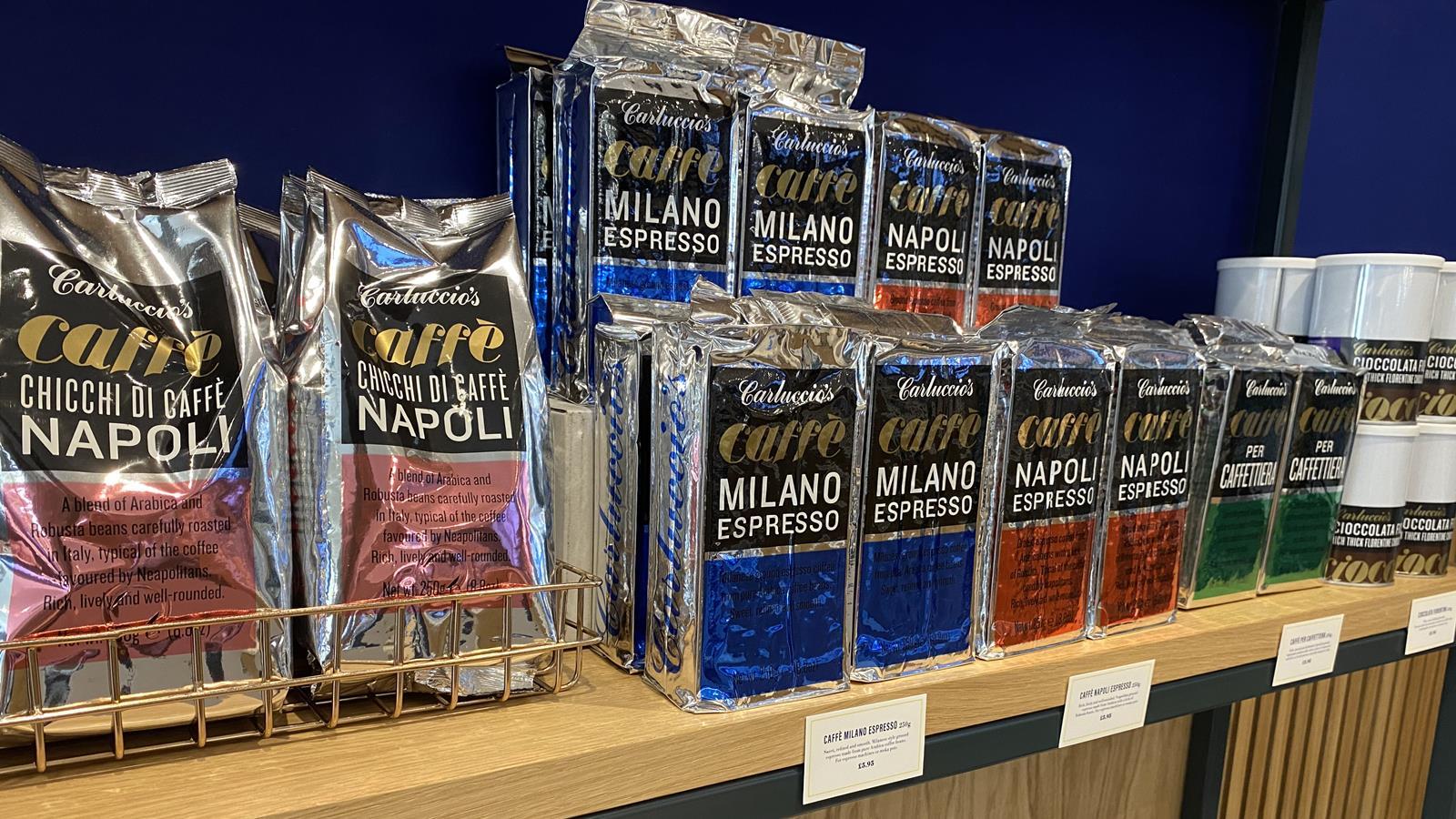 Source: Boparan Restaurant Group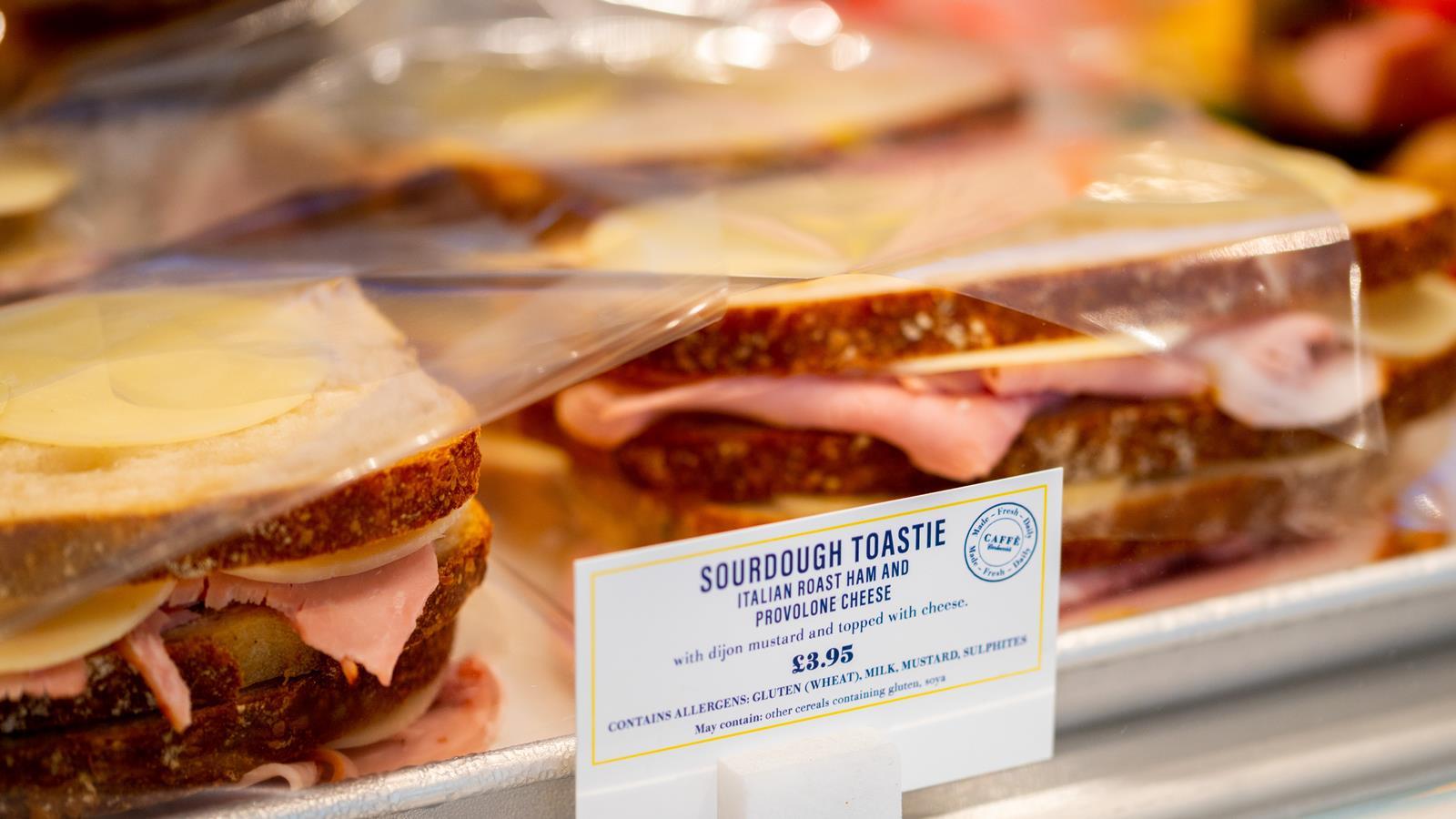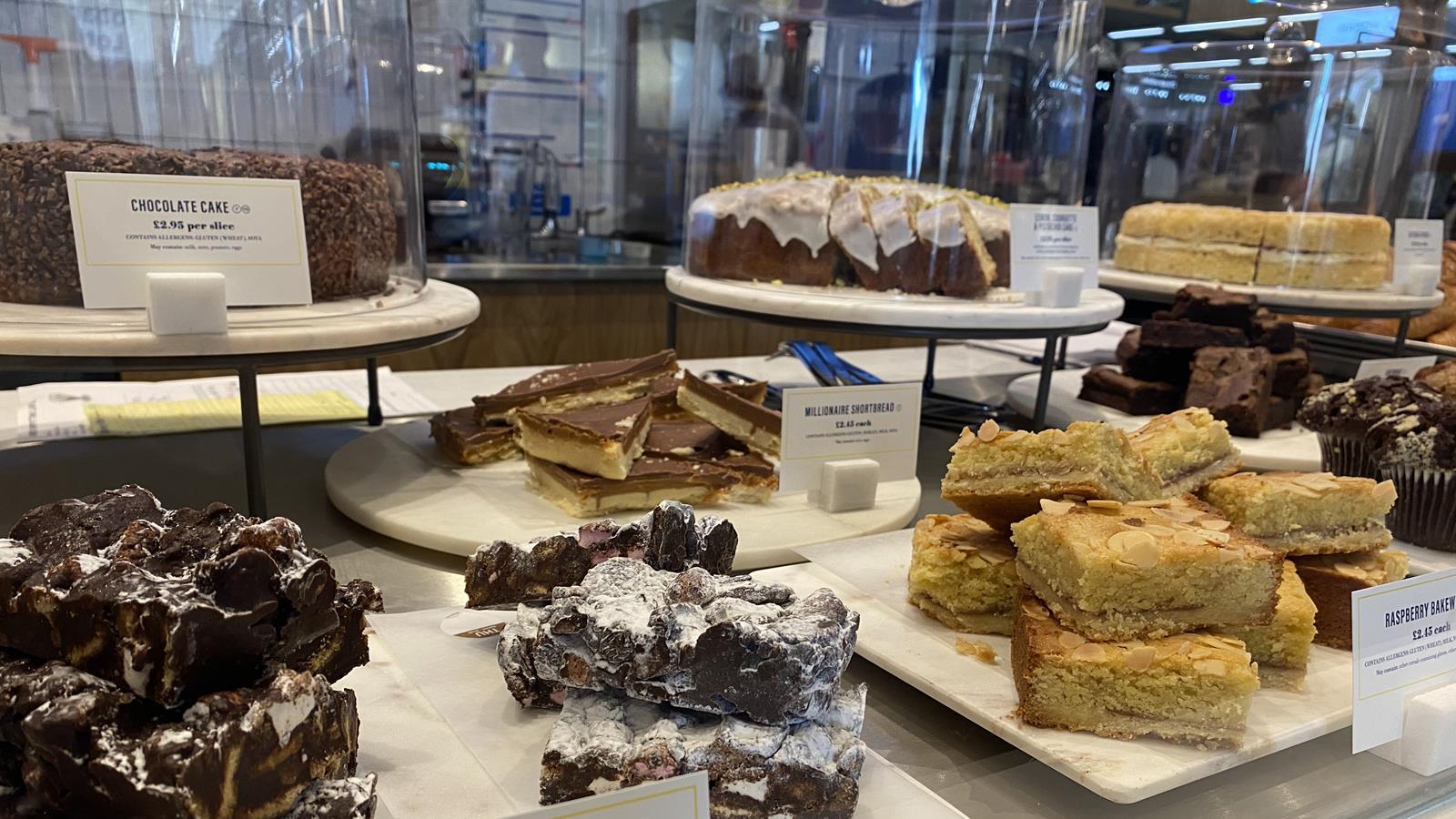 Source: Boparan Restaurant Group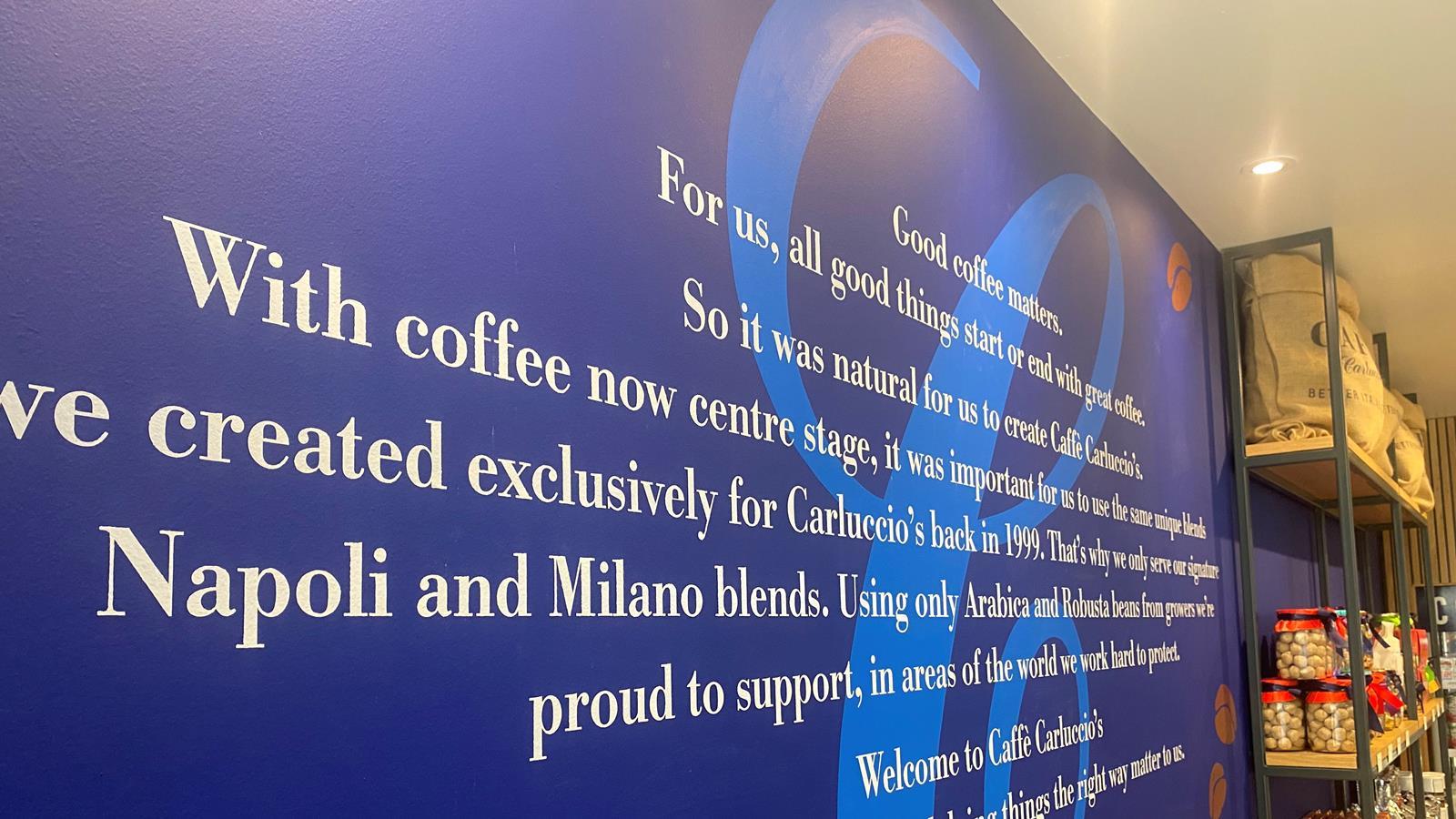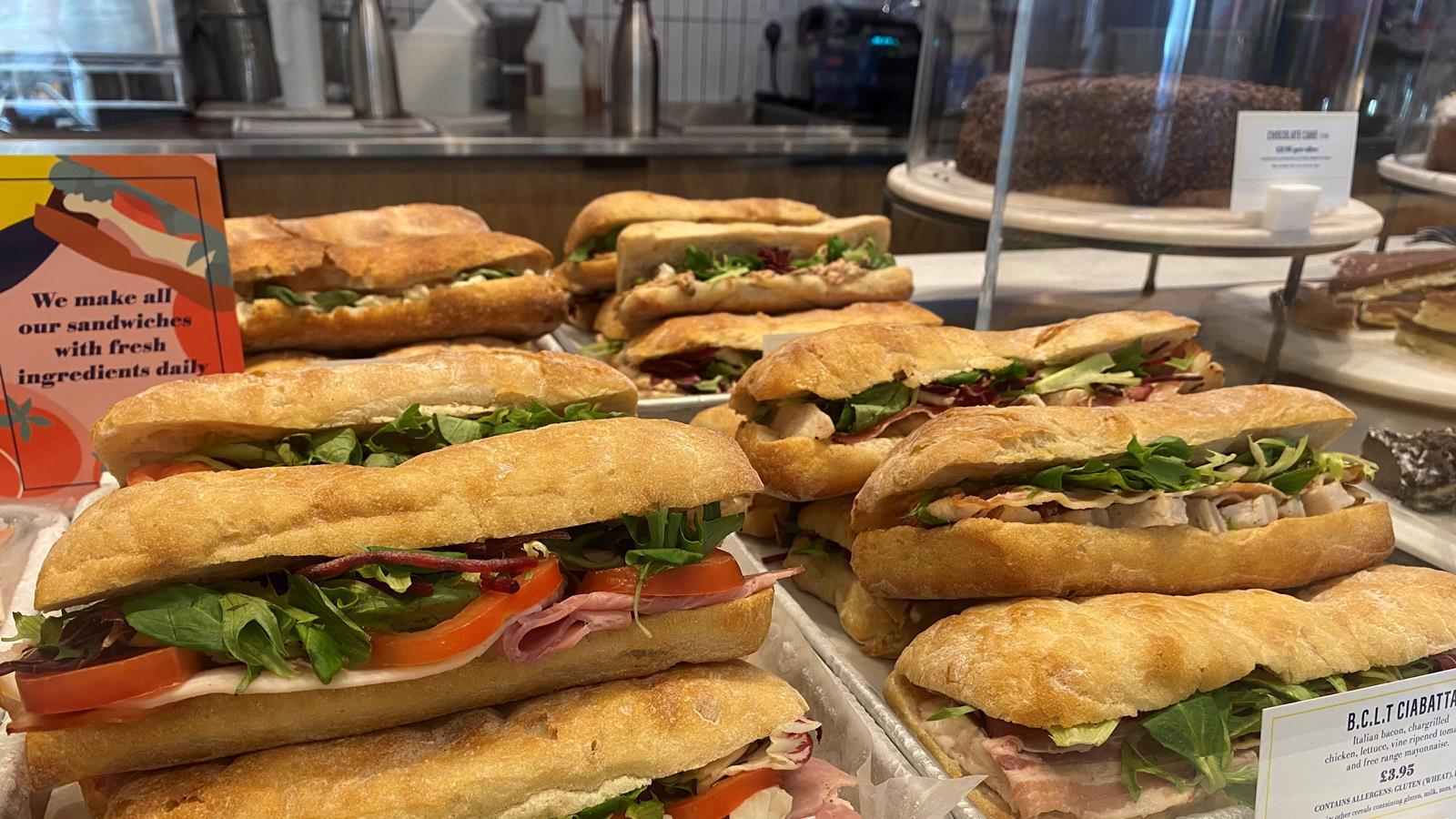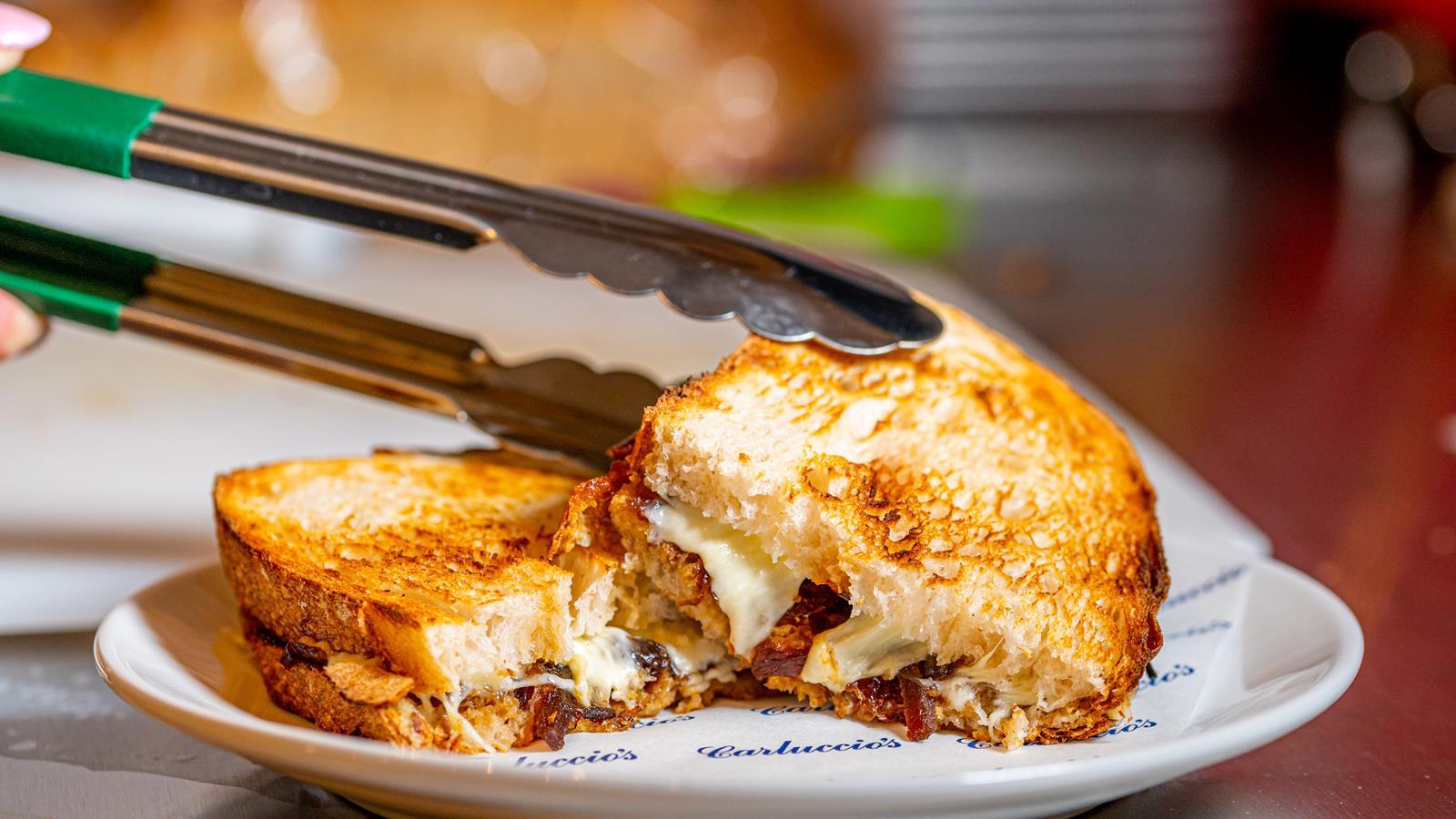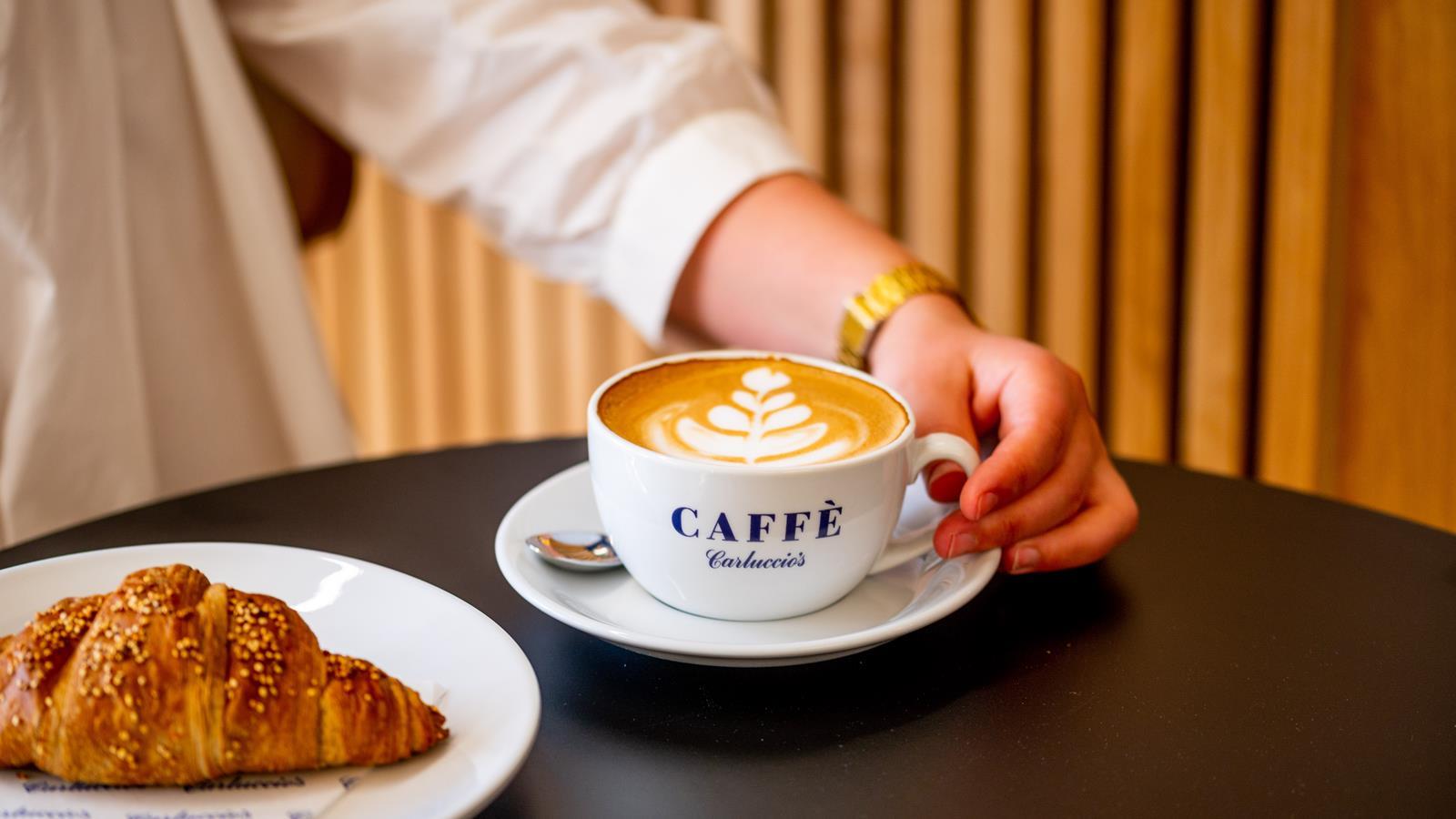 A range of Carluccio's retail products such as ground coffee, biscotti and cantucci will be available to buy
Sweet options include a rocky road slice, chocolate cake and millionaire shortbread
So why has Carluccio's partnered with Sainsbury's? And what does it say about its strategy for the future?
In essence, this is all part of a much-needed recovery plan for Carluccio's – one of the earliest victims of the pandemic. Just days after restaurants were forced to shut their doors in March 2020, the Italian dining chain went into administration. About 1,000 people lost their jobs and at least 40 of its branches faced closure.
In May last year, Boparan Restaurant Group came to Carluccio's rescue, with plans to revamp the brand – taking it into fresh new formats and sectors. "Before we made any decisions, we made three commitments," explains Leihal. "We needed to come out of the pandemic stronger than we went in; we needed to refresh our menus; and reimagine what the future looked like and how to relaunch properly."
On the restaurant side, BRG used customer feedback and e-data to figure out how to tighten up the menu and make it more accessible to customers post-Covid. But the team wanted to avoid relying too heavily on restaurants, especially as lockdown restrictions remained in place. The rise in grocery spend during the pandemic made an expansion into retail an obvious move.
"The retail offer came from us becoming multi-channel, multi-format, and through customers wanting us to be more available to them – not just for an event or an occasion where they went out," Leihal says.
A trial partner
So the partnership with Sainsbury's began. "We looked at where our customers shopped," says Leihal. Given Carluccio's performed highly among its clientele, Sainsbury's was the perfect place to test out its pizza, pasta and coffee, in a retail setting. The three trial formats in its stores were a natural next step.
Of the three formats, Caffè Carluccio's will have the widest appeal. On top of the concessions in Sainsbury's, the brand plans to roll out 500 such sites across city centres, travel hubs and neighbourhood locations throughout the country with the aim of "creating a genuine challenger brand to some of the nation's biggest high street coffee shop brands".
For Leihal, the combination of provenance and value will enable Carluccio's to take on more established rivals in this area. "We're famous for food quality and famous for service," he says. "So it's a good product at the right price point."
It certainly looks like a credible challenger now. The 45-seater café in St Albans is an exercise in slick branding, with a menu that reflects its Italian heritage and its retail range of ground coffee, biscotti and cantucci prominently displayed on shelves.
While the end result may look effortless, getting the concession up and running during the pandemic was no mean feat. Getting into the site was complicated, and the design and concept planning had to be done through video calls.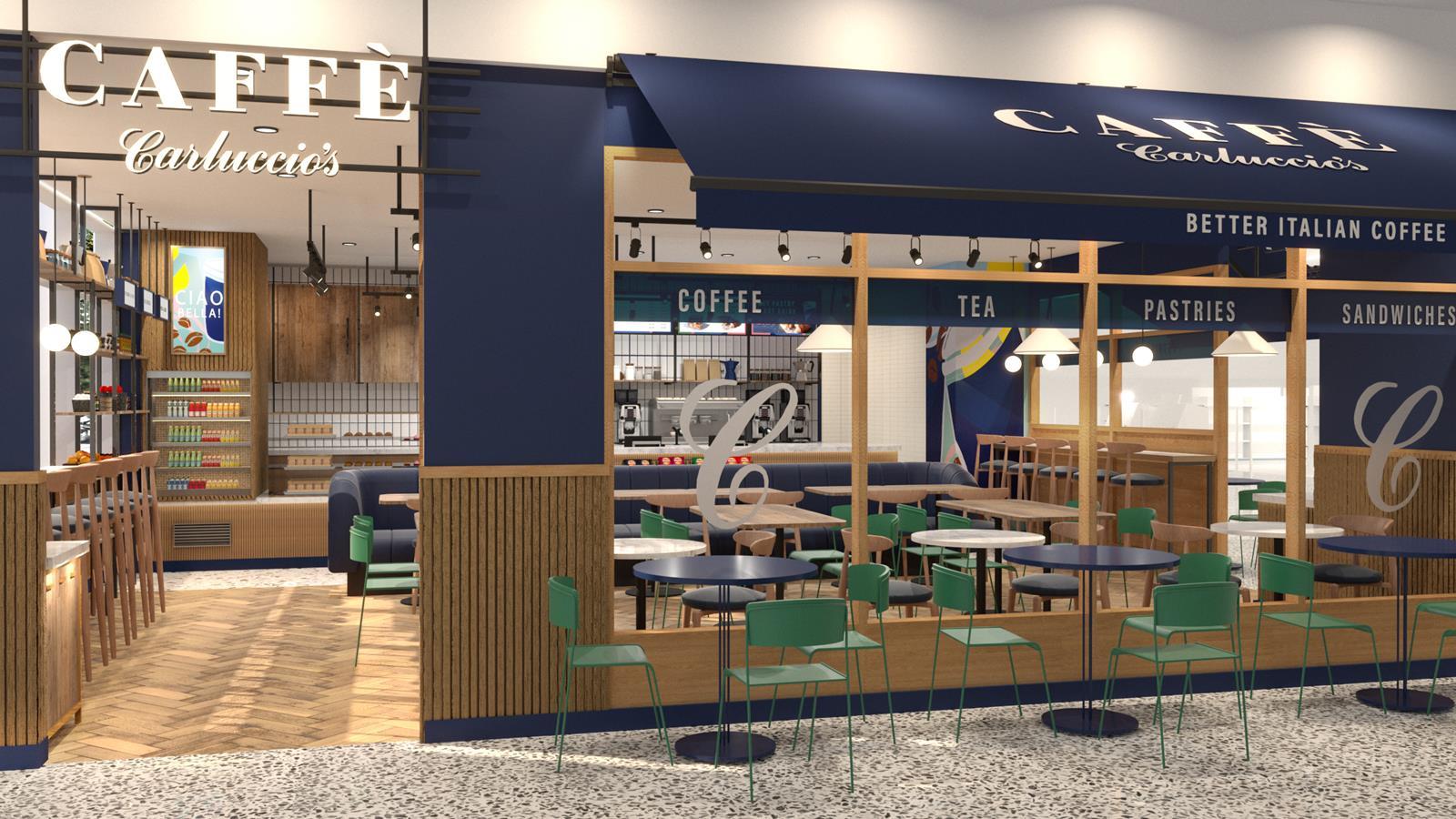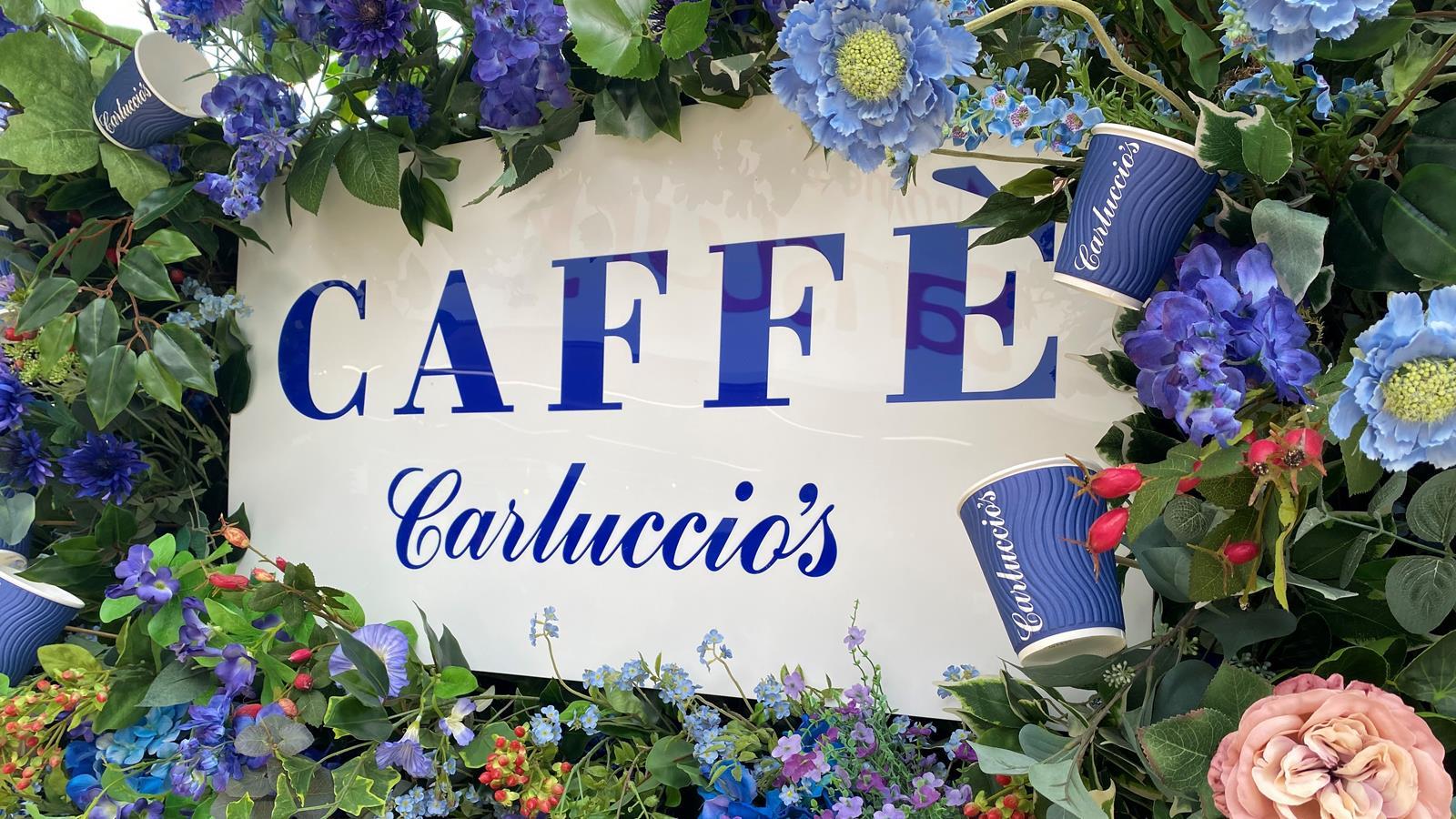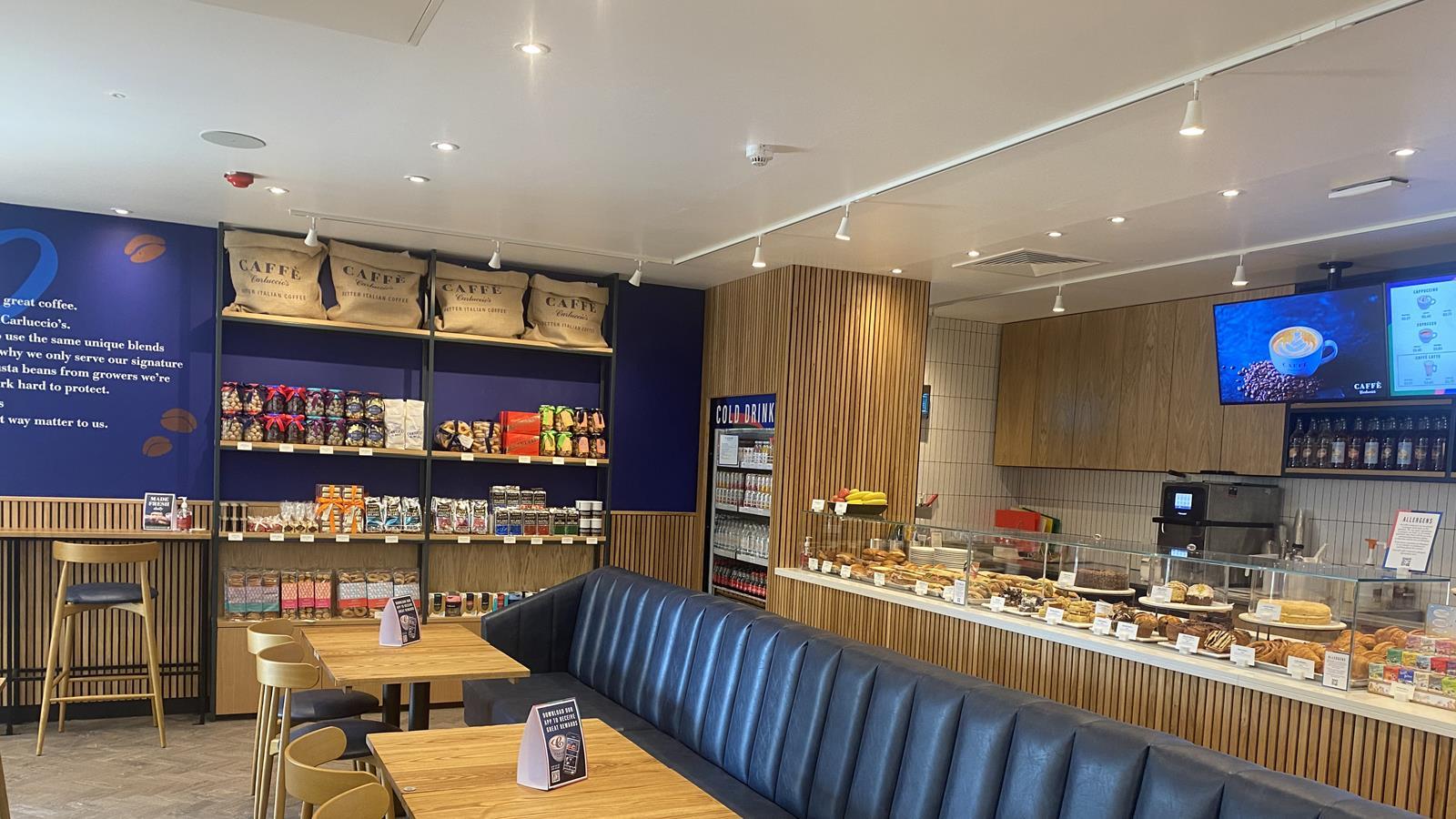 Source: Boparan Restaurant Group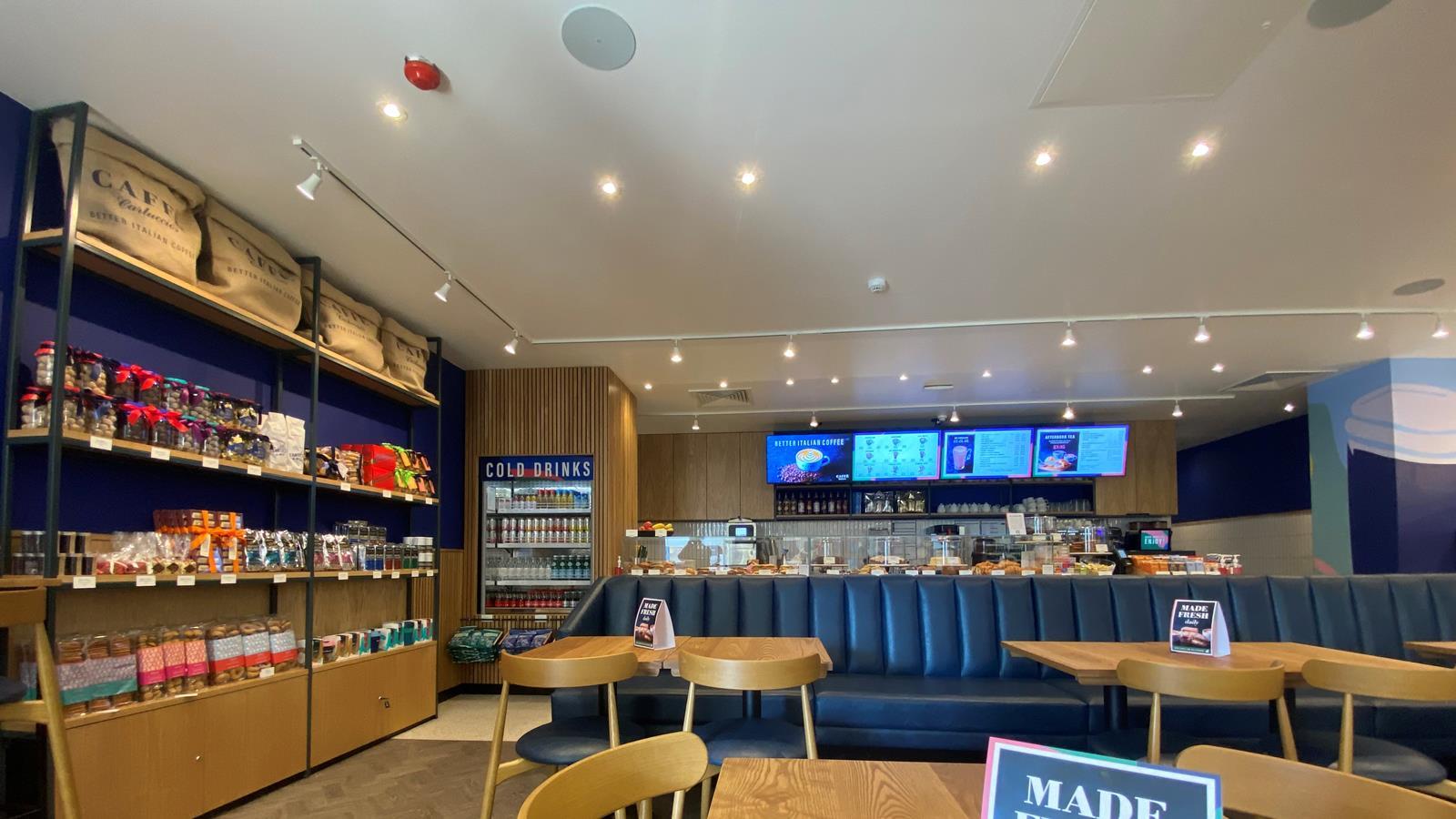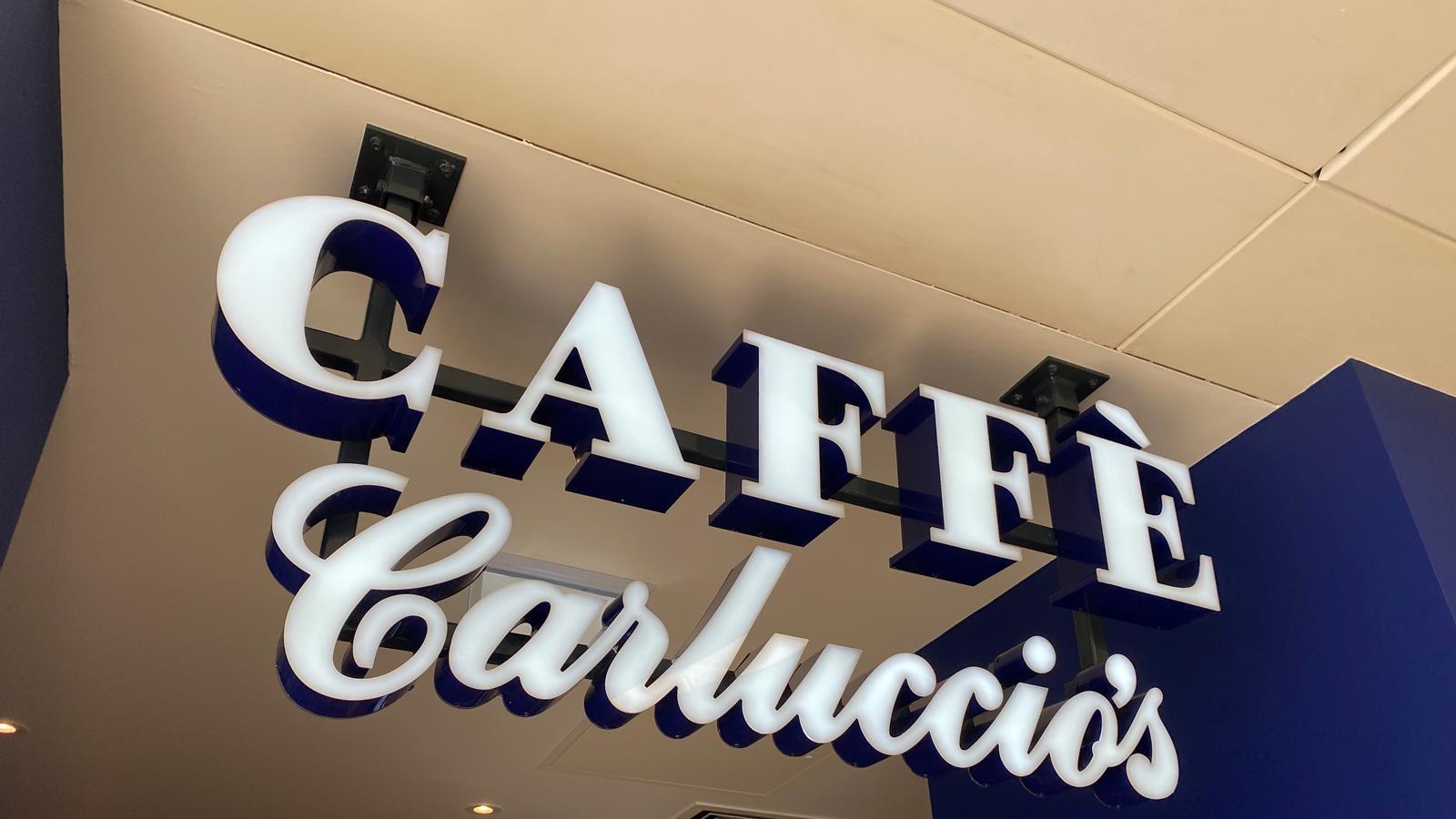 The 900 sq ft space will seat up to 45 customers
Even tasting the menu –supposedly the fun part – was a challenge, says BRG head of marketing Phil Neale. "We're obviously very passionate about our coffee and you want to sample it as much as possible and you can't really do it under Covid rules," he explains.
Having joined the Boparan team about two months ago, Neale is itching to put his stamp on its plans for Carluccio's. His formula for success is simple: "If you're listening to people and you're looking back at what worked in past and then apply a modern-day spin, that's where the answers lie."
It's an interesting choice of words. Because arguably the merger of casual dining with grocery is something that hasn't worked in the past. See the failed venture between Giraffe and Neale's former employer Tesco, which resulted in Giraffe being sold to BRG in 2016. But the team is confident its Restaurant Hub – the most similar of the three Sainsbury's formats – will succeed due to some crucial differences. First, it's not sit-down dining, offering both grab-and-go and delivery options to capitalise on the growth of takeaways during Covid. Second, having the range of restaurants all in one place could prove a selling point.
One household can order food from different restaurants within the hub to arrive at the same time, because it all comes from the same hub. "So if this is a family of five, there are no more arguments at home," Leihal smiles. "It's pizza night tonight and burger night. And it's not any burger, it's a GBK burger."
Leihal is somewhat non-committal on what success will look like for these formats. For him, rather than setting targets, the key is constantly listening to customer feedback – and "as a business we will learn, understand and redevelop".
One thing is certain: he is not short of ambition. The group is keen to enter any area where the Carluccio's brand could work. That could even be in new markets, as Leihal has seen "a huge amount of interest" internationally. BRG's presence in airports and travel hubs would make it easier to enter these locations, he adds.
"All of this comes down to being relevant in the right location," says Leihal. "The right format, the right channel in the right location, and those are the key three metrics that we work to." For now, Sainsbury's seems to fit that bill perfectly.