With their joint venture completed this week, M&S has about a year before it goes online with Ocado, where shoppers fill virtual trolleys, not baskets.

So it's timely that M&S also this week showcased probably its most important effort so far in getting more people to fill a trolley in stores.

By M&S CEO Steve Rowe's own admission in January this year, "Forty-one per cent of our customers are shopping for today/tonight and that doesn't really work in an online proposition."

So the Hempstead Valley branch has been reformatted to be "more relevant to a busy family customer", says store manager Suzi Price.

It's the first step in a "store renewal" trial, with a "handful" more due to get the same treatment, according to M&S Food MD Stuart Machin. "Our JV with Ocado was an important move and renewing our store estate is also critically important," he says.

So can this new format attract more families for the full, weekly shop?

The range has been increased from 4,900 lines to M&S's full 6,000, overcoming the first obstacle, which is getting more products to more people. "One of the reasons we want bigger food stores is we want to show the full M&S range," says Machin.

But there's more to Hempstead Valley. The store footprint has grown from 9,500 to 16,900 sq ft, so there are more products, more spread out.
Layout
It takes up roughly half the ground floor of this entire M&S branch, which in total is 62,500 sq ft over two levels. You could hardly miss the Food Hall, immediately on your right as you enter, but just in case you did, a fresh sampling counter has been positioned at the main store entrance, offering strawberries on the day of The Grocer's visit.

Inside, the aisles are exceptionally wide, with more space still separating different sections of the store, giving the whole place a generous, airy feel.

The aim was a supermarket with the "soul of a fresh market" according to Machin, and the fresh fruit & veg section, where you arrive first, is indeed reminiscent of a street market in its design, albeit in a more sanitised environment. Veg sits in wooden boxes on the floor, how a trader might arrange it around a stall.

There are 50% more fresh products and 40% more loose lines, with paper bags for weighing and labelling at one of two weighing stations. A specialist "greengrocer", one of 25 new store roles, is on hand giving advice.

Many of the packaged lines, such as Santini tomatoes, are plastic free. Instead they're in cardboard punnets, with a large sign barking the price of 60p per 100g, simultaneously driving home two of the store's "hero messages": sustainability and value.

And the store does drive them home, along with a third: quality.

The Market Fresh Specials, rotating offers of fruit & veg at 65p, are on stands so close to the Food Hall entrance they are all but invading the clothing department, with the price in black on white (as if chalked) in digits bigger than a dinner plate.
Messaging
Behind the tills is a whole wall of messages about such things as "real ingredients", "friendly fish" and "protecting our planet" by cutting plastic waste.

Everywhere are signs beginning "This is not just…"

Next to the ice cream there is a big flat screen showing a rolling 'food porn' ad for the range.

In this part of the store, larger freezers make space for new lines and bigger, family pack sizes, including two-litre ice cream tubs and 1.5kg bags of chips.
Frozen is one of the sections to double its footprint, along with bakery, located immediately behind the fresh produce. Staff bustle behind a counter, beneath another large, illuminated sign saying 'baking now', because the activity will not cease all day, according to M&S.

Elsewhere in the store, there's a flower section, a deli cheese section, a sizeable wine department with bottles of red and white from £6, a household, toiletries and baby aisle, and even a pet section.

But does it make this a supermarket for the complete, weekly family shop? A woman casually wandering in with a full trolley from Sainsbury's next door seems to suggest an answer. Others are carrying Sainsbury's bags.

Despite its growth, this Food Hall is still small by supermarket standards, about the size of a big Co-op. The range also remains dwarfed by the 40,000 typical of a Tesco superstore, and is still heavily reliant on own label. So if your family shop includes a specific, such as Nutella, it's going to have to be an M&S chocolate spread instead. Or go to the Sainsbury's a few yards away.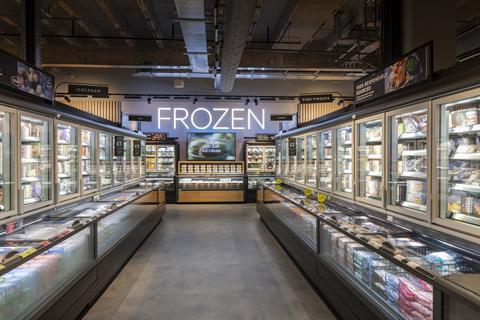 Location
The Hempstead Valley shopping centre is well known to Machin. "I was actually brought up in this area and started at 16 at the Sainsbury's next door," he says.

The site was chosen specifically for its close proximity to not only the Sainsbury's but also nearby Tesco, Asda, Morrisons and Aldi stores. "We knew the catchment would create an opportunity to attract more family shoppers," says Machin.

If the range is insufficient to draw them away entirely from rivals, there is something else that may tempt them to spend less there and more here. It is simply a pleasant shopping experience. Checkout is utterly painless. Four of six aisles are staffed, making for queues of no more than one or two shoppers at each. Neither is there a queue for the nine self-checkouts, where there is also a third weighing station, in case you forgot while in the fresh section.

Scan and Shop, to streamline the process further, is a new feature, along with mini trollies for kids to push while parents push a big one.

Perhaps an indication of effect on spend is that most customers seem to be pushing a trolley, although baskets are as readily available. Whether or not a full weekly shop, what they are putting in looks like more than only shopping for today.

For a retailer whose average basket value analysts have put at £13, it could be a breakthrough, provided there is capacity in the estate to sufficiently roll it out. Machin acknowledges only about 12 branches currently have the full range because "many of our stores are small".

But he says: "We have done a review of our store estate and know we have some fantastic stores and an opportunity to create bigger, better, fresher food stores."

Hempstead Valley seems a good prototype for that aim.


Steve is deputy news editor at The Grocer.

He's responsible for covering online grocery and the discounters, and for editing The Grocer's analysis features. He's an experienced journalist who has contributed to a range of national newspapers including The Mail on Sunday.

Follow Steve on Twitter: @Steve_Farrell_