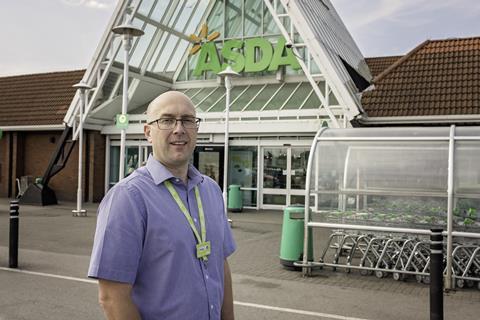 Winner: Asda Walton, Liverpool
Store manager: Graham Watts
Opened: 1990
Size: 56,000 sq ft
Market share: 11%
Nearest rivals: Iceland – 0.6 miles, Aldi – 0.6 miles, Sainsbury's – 2 miles, Tesco – 2.2 miles
Store data source: Analysis by CACI. Call the market planning group on 020 7602 6000
How much of a sales spike did the sporting Super Sunday give you? It had a really good impact. We were really busy at the weekend with all the big sporting events on. The fact that we've had some really good weather in the last four or five days has also really helped and we've been seeing some really good sales numbers, despite the tough comparison with last year's heatwave, which is good. Some people also switched their normal shop to click and collect so they could get back to watch the sport.
What products have been selling well in the sun? We've had some stunning offers on our beer ranges and the in-store bakery has also been flying. We launched a new pizza this week, we call it the ultimate barbecue pizza. It's £2.50 for a 10-inch pizza and is a great new product.
You're no stranger to big sporting events recently. No, a few weeks ago, of course, Liverpool won the Champions League final. I'm an avid Red. It's been a massive boost for the city and for the store. As much as possible we had the store featuring red and white in the aisles. There's been a real buzz in the area because of it and long may that continue.
What other big sales drivers are there at the moment? We've launched our Back to School range and I think it's better than ever this year. It's a really good offer which is good value and good quality.
You scored maximum for service. Is being a community store important to achieving that? The fact that it's a close-knit area and our staff know their customers is really important for that. I like to think of ourselves as being the biggest corner shop in Liverpool.
You have won the award before but didn't get to receive it, is that right? Yes, when I was the manager of the Asda Huyton Supercentre we won, but I was on holiday at the time so it's great to be able to win again.