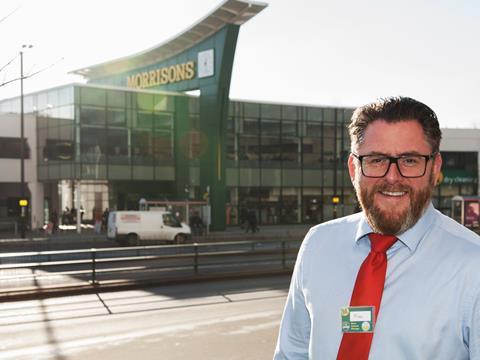 Well done, 90 out of 100 is a terrific score. What do you put this down to? It's really down to a great team effort. I couldn't be more proud of them. This is recognition of the great service and availability they deliver week in, week out.

So have you fully recovered from the big Christmas effort? Yes. This can be a bit of a scrappy time of the year for supermarkets but we made a special push as we were exiting the Christmas period to get the store back to normal and up to full speed as soon as possible.

So no new year hangover for you, but is the dry January trend affecting sales? Obviously at the start of the year - customers are looking to shed the pounds and we are focussing on healthy lines but there hasn't been any impact on alcohol sales. If anything, sales are up thanks to us reshaping our wine and spirits offer. On wine we have gone back to ranging by country of origin rather than price, which is easier to shop.

Morrisons had a good Christmas in terms of sales. How was it for you? Fantastic really, I think our store really mirrored the group's performance as a whole. Our customer numbers were up and the package we put together for Christmas was really well received. We also did a lot of planning ourselves before Christmas to make sure we are getting our range right for our local customers. We are right in the centre of Birmingham and have a very diverse customer base so we made sure our range was purpose-built for the area.

And is there now a sense that Morrisons is turning the corner after a tough few years? Without a doubt. We had a great Christmas and there is no reason to suspect that won't continue. With more customers coming into store I think the business is in a strong place to capitalise on that performance. Good results also bring good morale among our colleagues and there is a very good feeling within our store at the moment.
Winner: Morrisons Edgbaston, Birmingham
Store manager: Mike Jeavons
Size: 26,000 sq ft
Opened: 2012
Market share: 5.9%
Nearest rivals: Tesco - 1.4 miles The Co-op Group - 1.7 miles Aldi - 1.8 miles
Store data source: Analysis by CACI. Call the market planning group on 020 7602 6000