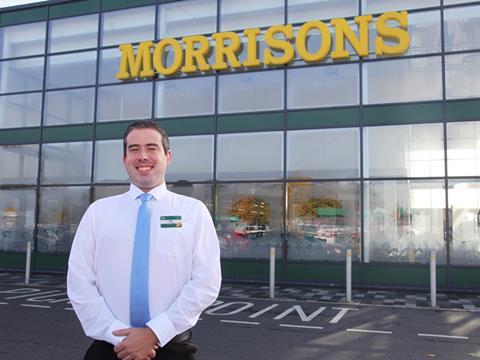 How was your Halloween trading? It's been really good this year - Morrisons did a great job with its seasonal aisles and it was very successful. We had great lines in this year including costumes and full-size skeletonsat the front of the store .It also looks like we'll come out clean in terms of stock holding.

Are you having any work done? Next week actually. We are having a hot food to go section installed in the front of the store. We already have our £3 meal deal, which is market leading, and this will be a great addition. It will all be done after the store is closed for the evening so there will be no disruption for customers.

And then is it full steam ahead for Christmas? Yes. It's a very busy time of the year but we are very confident going into the Christmas period. I think we have a great trade plan this year and we also now have our Morrisons ordering system in store, which will really help ensure we have great availability. It's been in store for about five weeks now and it has made a massive difference in terms of giving us the time to really focus on serving the customer.

Morrisons recently relaunched premium own label range 'The Best'. How is it going? Really well. We have featured it on tables with tastings and customers have been very impressed. Our colleagues also love it. We've had tasting sessions for them so they feel empowered to talk to customers about it. The Best mince pies have been selling particularly well along with bakery lines while we also have some great frozen lines in for Christmas.

And you had a dine in for £10 meal deal for the first time as well. That's right, it was last week. I think it was a great success and a great way to introduce customers to The Best range and hopefully encourage them to try the products.

Finally, how have your Marmite sales been? Great - we've seen a real up-tick in sales. There has definitely been a run on it but we've been able to maintain strong availability thanks to the new ordering system.
Winner: Morrisons Grange Road, Cwmbran
Store manager: Phil Parkinson
Size: 39,000 sq ft
Opened: 2013
Market share: 10%
Nearest rivals: Sainsbury's - 0.3 miles Lidl - 0.4 miles Aldi - 0.5 miles Asda - 1.1 miles
Store data source: Analysis by CACI. Call the market planning group on 020 7602 6000