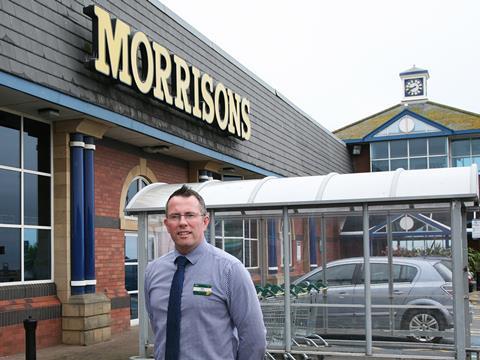 You've been working nights this week to oversee the installation of the new sales-based ordering system. How is it going? It's going well. We are part of phase B of the rollout. In phase A it was rolled out to a number of stores in different areas of the country including ours. So we have been able to go into stores where it is already and they looked great, with a real reduction in out-of-stocks.

Your store already seems well on top of availability. What are you doing right? It's the biggest focus in our store. We scan for gaps twice a day and anything that we find we follow through to find out why. This is part of a new drive to improve the customer journey that Morrisons brought in just before the summer. Another part was to improve queuing so that we only ever have one plus one. Our store has been really successful in this area as well.

Our shopper was very impressed with your customer service. How do you keep standards up? It really helps that we have a lot of long-serving colleagues, which creates a great atmosphere. We also look to reward and praise colleagues and celebrate when they produce success - such as taking pictures of their fixtures and posting them on the Morrisons Facebook page. The feedback we are getting from customers has been great recently. We had 139 responses about our store in the Talk to Morrisons survey this month. This is higher than ever and might be because we used to offer the chance to win £200 but have recently increased this to £1,000.

How has summer been? A bit hit and miss. The area here is a lovely place to come to and the store looks directly over the beach. We have big windows, which give our customers great views out to sea. So when we've had a few little heatwaves we have had a great boost for sales. We are due one this week in fact, which is very welcome.
Winner: Morrisons Seaburn, Sunderland
Store manager: Neil Pinkney
Size: 38,000 sq ft
Opened: 1989
Market share: 11.1%
Nearest rivals: Sainsbury's - 1 mile Aldi - 1.7 miles Lidl - 1.9 miles Tesco - 2.3 miles
Store data source: Analysis by CACI. Call the market planning group on 020 7602 6000