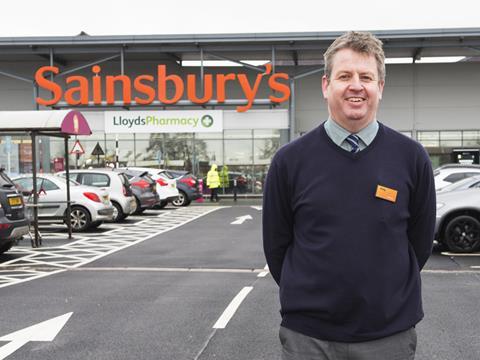 How long have you been at the store? Seven months. I joined Sainsbury's on a youth training scheme in 1985 and have been a manager for eight years, previously working in the role at Telford and the old Wolverhampton store.

What is your relationship like with your team? I have 13 department managers and they're a great bunch who deliver day in, day out. We've all pretty much got the same principles of delivering service and making sure availability is always up to scratch, whether that's at 7am or 11pm. Colleagues are the most integral part of your store.

You received top marks for customer service. How do you reward excellence? We have a recognition card where we reward colleagues for great service. It's like a gift card that can be loaded with money. A recent example is when two of our in-store colleagues delivered a microwave to an elderly customer who couldn't travel in. They helped install it and disposed of the old one.
Winner: Sainsbury's Cannock
Store manager: Andrew Beardmore
Opened: 1991
Size: Over 100,000 sq ft
Market share: 3.6%
Nearest rivals:
Morrisons - 0.9 miles
Asda - 1.4 miles
Tesco - 1.5 miles
Store data source: Analysis by CACI. Call the market planning group on 020 7602 6000
Are there any notable promotions currently underway? We're in the full thrust of Pancake and Valentine's Day and have 25% off clothing.

Has the store undergone any refurbishments recently? We've just had the car park resurfaced and created extra space between the vehicle bays, which customers really like. We've also increased the number of parent and child and disabled spaces.

How has the recent bad weather affected your store? We were hit with snow a few weeks ago. Customers shopped beforehand and used the online service a lot more when the snow fell. Snow shovels were a popular line.

Are you involved in any charity initiatives? Since the start of the financial year we've donated £6,000 to the local guide dog charity, through things like tombolas. The colleagues and customers love it when the guide dogs are brought in.