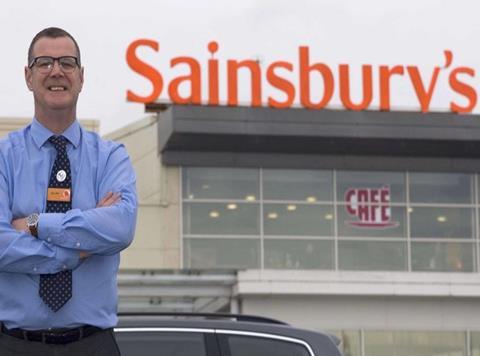 You have managed to win with a relatively new management team. Yes, I've been here for three years but the reason I'm really delighted to win is because three of our managers are trainees. So the fact that the mystery shopper had a fantastic visit is great credit to the management team and I'm really proud of that.

Your store shares a retail park with Argos. How is that going? We sent them a Sainsbury's hamper of products to welcome them after the acquisition with tins of biscuits, so that went down well. We've now got Argos catalogues in store and if we don't have a non-food item, we would certainly get them to go and try Argos because it's literally across the road.

What is performing particularly well at the moment? Well, at the beginning of the year we made more space for clothing so that's gone down really well with customers. With the drop in the weather, the winter range launch was really at the right time. There isn't a lot of competition around here and the click & collect option is very popular.

Is Christmas produce already selling? Yes, it's starting to sell really well. People are realising Christmas is coming. Mince pies are selling well and have been since they've been in stores, and tins of biscuits are also starting to sell well.

What do you think of the rollout of Sainsbury's Waste Less, Save More to more UK towns and cities? I think it's fantastic. We send products we've disposed of to The Scottish Deer Centre. We've got a great partnership with them and that food is really important to them through the winter. We've also got the food bank here and customers are fantastically generous in their donations - we get two trolleys of food to take up there every week. Also there's the inspirational messaging we have in store that's trying to get our customers to use different recipes but only buy what they need.
Winner: Sainsbury's Riverside Road, Leven
Store manager: Allan Commock
Size: 30,000 sq ft
Opened: 1998
Market share: 4%
Nearest rivals: Lidl - 0.3 miles, Iceland - 0.3 miles, Co-op - 0.6 miles, Aldi - 0.9 miles
Store data source: Analysis by CACI. Call the market planning group on 020 7602 6000