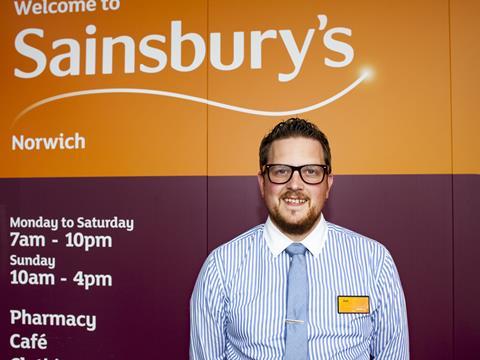 Your store is 84,000 sq ft. That's pretty big for a Sainsbury's! We are one of the biggest in the country. It's fantastic because it gives us a chance to carry a huge range. We have a full clothing range and a big GM department.

There's been lots of talk about these stores being outdated though. The model definitely still works here. It's a one-stop shop. The fact we're next to a retail park on the outskirts of Norwich probably helps too. We also have housing nearly so we get the best of both worlds.

Has the shift to online affected the store? One of the most recent things we've carried out is a big expansion to our online goods department. We have almost doubled the number of delivery vans to 13 and have lots of new equipment, such as new refrigeration and more efficient loading bays. We serve most of North Norfolk and online is growing strongly still. It's about 12% to 15% of our turnover.

What are you most excited about that's coming up? This week we launched our new patisserie counter, which is the biggest change to our in-store bakeries we've ever carried out. There is a fantastic new range of adults and children's cakes, with over 20 new lines.

What's your favourite? The new macaroons are fantastic, but it's all freshly made, and a lot more upmarket than has gone before but at a very competitive price.

How did your customers react to the controversial meal deal changes? The new range has been well received. Some people were disappointed that the Taste the Difference sandwiches were no longer included but the core range has been improved and is great quality and my ­customers seem very happy.

This makes a hat-trick of wins for this store in the Grocer 33. What's the secret? It's a great honour to win again. We are really pleased. It's a sign the hard work of a lot of colleagues is paying off.
Winner: Sainsbury's Longwater, Norwich
Deputy manager: John Kirkham
Size: 84,000 sq ft
Opened: 1997
Market share: 21.3%
Nearest rivals: Tesco - 2.2 miles Aldi - 2.5 miles Lidl - 3.9 miles Asda - 4.9 miles
Store data source: Analysis by CACI. Call the market planning group on 020 7602 6000