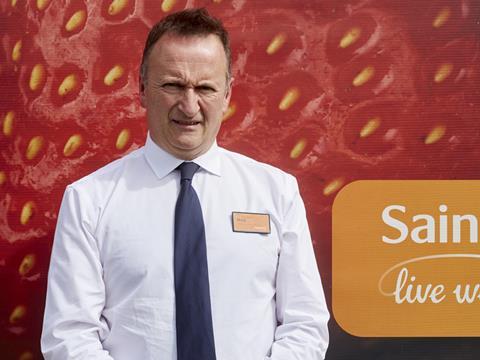 Congratulations on winning the Grocer 33. How do you feel? It's really great news. I told our team at the morning meeting and there was a massive cheer!

You are one of the few Sainsbury's branches to have an in-store dentist. How is it performing? There are only about three Sainsbury's stores with a dentist in the country, and ours has gained quite a bit of interest. It's something the company has been trialling and the feedback we've had at a store level has been positive. It goes hand in hand with our pharmacy quite nicely.

How have customers responded to your new click & collect service? We've had a click & collect service in our car park for about five months now and it's growing steadily. People started to buy into it within a couple of months. We have a lot of commuters into London in this area and it caters for that commuter feel because you don't need to spend time going into the store.

The primary topic of conversation in our newsroom is Brexit. How did your store react? We're a non-political business so we've deliberately tried not to take any view and keep things focused on our day jobs. At the morning meeting, it was a case of that old saying of keep calm and carry on: we need to keep focusing on what we're doing and keep things going forward!

Has the unseasonably cold and rainy weather had any impact on what you're selling? Sainsbury's reported a surge in mince pie sales last month… Actually we're still doing well on our barbecue section and our summer fresh products. Better weather would make a difference and we always wish for more sunshine because that accelerates things, but we've done very well and I think people are still in the mindset of summer. Even our patio and non-food items are doing well so it shows people are still being optimistic.
Winner: Sainsbury's Rayleigh Weir, Stadium Way, Benfleet
Store manager: Mark Blay
Size: 65,000 sq ft
Opened: 1981
Market share: 16.6%
Nearest rivals: Tesco - 1.4 miles Morrisons - 1.5 miles Lidl -1.6 miles Aldi - 2.2 miles Waitrose - 4.2 miles Asda - 4.6 miles
Store data source: Analysis by CACI. Call the market planning group on 020 7602 6000