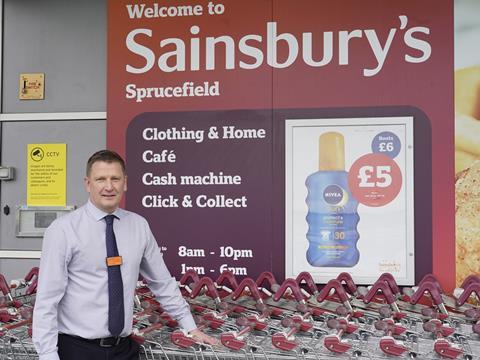 What were your big sellers over the Royal Wedding weekend? Various lines of prosecco sold really well, and we completely sold out of clotted cream. Customers must've been eating a lot of scones while celebrating and enjoying the glorious weather.

There is a £60m redevelopment coming to Sprucefield Park. How will that affect the store? Although it won't impact the store directly, Intu and the council are planning to install an 80-room hotel, 12 new retail units and a large public space through landscaping work, which should attract new customers. The council is just waiting for sign-off for the plans, but it's been very well thought out, so I hope it'll come to fruition.
Winner: Sainsbury's Sprucefield Park, Lisburn
Store manager: Steven Pollock
Opened: 2005
Size: 39,000 sq ft
Market share: 24%
Nearest rivals: Iceland - 1.9 miles
Lidl - 1.9 miles
Tesco - 2.5 miles
Store data source: Analysis by CACI. Call the market planning group on 020 7602 6000
How has the base pay rate increase affected staff morale? Almost every single one of our 306 colleagues will be better off under the pay rate plans, so the feedback and mood have been really positive. I'm not seeing the negative reactions I've heard so much about.

What do staff there think of the Asda merger? Everyone is really excited about it, though no one really knows what will come of it. Sainsbury's is a trustworthy company and will do right by customers, staff and suppliers.

Is the store trialling any new initiatives? We've run a few trials, but I can't specify what they are. The beauty of a Northern Ireland store is that there's only 13 of us and we get to trial some fantastic initiatives and ideas.

What's your favourite department in the store? I love our clothing, especially the Tu premium range. I buy a lot of it for my children because it's such great quality. The range has also gone down really well with customers since it was launched in February this year.

What makes a good store manager? You have to be ready for any amount of change, and an open-door communication policy is vital for good relationships with both employees and customers. Staff need to feel part of the team, and feel like they have a voice, especially because it improves results in the long run. It's so important for managers to interact with colleagues as much as they do with customers.

How do you cater the stock to customers' needs? We're very fortunate with our store because customers give us a lot of feedback. Many of them use the Tell Sainsbury's website to do so, and because we act on as many requests as we can, I think more customers are encouraged to suggest changes and give feedback.