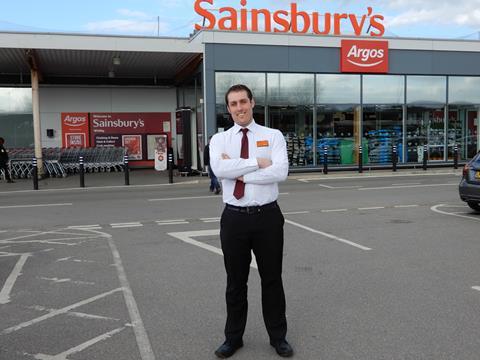 What recent developments have the store had? We got an Argos store-in-store in July, which has proved overwhelmingly popular. The Fast Track delivery and collection service [which offers same-day for orders before 6pm from £3.95, or free collection in 60 seconds] was introduced this week, which will be a real enhancement.

What items sold really well over the Easter break? We sold packets of selected veg for 25p each over the period, which went down really well, and we have started lowering a lot of prices overall, which has brought good volume and growth of sales.
What's your customer demographic? We get a lot of seasonal custom, especially in the summer, so it's very diverse. We've got a lot of shoppers under 35 so the 'no touch' chicken pouches being rolled out at the start of May should prove popular among younger people who want to cook raw meat, but aren't keen on touching it.
Winner: Sainsbury's Whitby superstore
Store manager: Rob Hainsworth
Opened: 2012
Size: 31,000 sq ft
Market share: 49.4%
Nearest rivals:
Lidl - 4.6 miles
Aldi - 15.2 miles
Tesco - 15.5 miles
Morrisons - 17.7 miles
Store data source: Analysis by CACI. Call the market planning group on 020 7602 6000
How have employees reacted to the potential base pay rate change to £9.20? Really positively overall. It's going to benefit about 99%, make pay fairer across the board, and give employees great pay for doing great work. It also puts Sainsbury's at the front of such a competitive market.

What's your relationship like with your team? I have a really good relationship with my colleagues - we listen to each other, have plenty of trust and work things out as a team. For employees achieving well we have a recognition process, and I strive to take every opportunity to show employees their hard work is appreciated. Those underachieving get a great range of support.

What does the store offer that local competition doesn't? We have a great range of choices for shoppers, including Argos and an in-store bakery, and our customer service is consistently great. It's also important to be a key player in the local community.