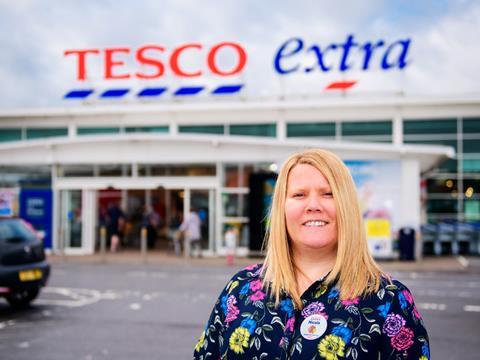 Tell us about your store. Is it the biggest in Wales? We have over 600 employees, so probably one of the biggest in Wales. It's a lot of responsibility to manage that many people. We also have the largest home shopping department in Wales. We've got 18 dotcom vans and cover the whole of Swansea but also the Gower and the Mumbles, so a pretty big area, with a real combination of very built up and remote areas. That side of the business has grown vastly over the past 12 months.

How have customers responded to scrapping Brand Guarantee? I think some will miss it but I also think they appreciate we are moving towards even more low everyday prices. Brand Guarantee was brilliant but I'm not sure everyone understood it. We've moved away from bogofs and have more price promotions.

Do you have any other price initiatives in the pipeline? We've just brought in some special purchase bins, which we will have new deals for every four weeks, It will be across all kinds of different GM products and goes live next week.

Are you hoping to copy the success of Aldi with these of special purchase offers? I don't think it's so much Tesco copying Aldi and Lidl but going back to the roots of what Tesco used to do. I remember the time when Tesco used to sell £30 Levis in store, cheaper than anywhere else

How else are you adapting your non-food offer in store? We've just completed an electricals range reset. It's an area that has been in decline so we are adapting our range. We've also reduced some areas of magazines that we used to sell and also cut back slightly on some other areas like party products.

Tesco is trialling a completely cashless store. Do you think this could take off in a store like yours? The company doesn't go into these things lightly and I think it's right that they want to be ahead of the curve. It would be a big step but 50% of our customers already use either self-checkout or pay as you go. They are really embracing new technology.

How much of a boost was the World Cup? It's been brilliant for trade even though sadly Wales weren't in it. Business has been fantastic, especially in areas like beers, wines and spirits. I'm a proud Swansea City fan but was happy to follow England. Whether I was supporting them is another matter, I'm not sure I would be allowed to show my face in the store if I said that.
Winner: Tesco Pontardulais Road, Cadle, Swansea
Manager: Nicola McGuiness
Size: 100,000 sq ft
Opened: 2001
Market share: 21.6%
Nearest rivals: Lidl - 1.1 miles, Iceland - 1.7 miles, Aldi - 1.7 miles, Sainsbury's - 2.6 miles
Store data source: Analysis by CACI. Call the market planning group on 020 7602 6000