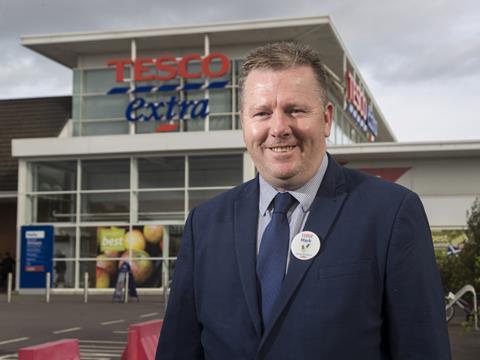 Have you had a lot of work done to update and re-purpose the store? Over the years it's had two or three refits and the last one was pretty huge with a mezzanine level put in, giving us a very big F+F department. It has a really great range, and a big electrical department. It's really made the store a destination - I have customers coming from as far as 40 miles away.

What's the latest physical change to the store? We're very fortunate as we've just had one of the new Tesco cafés installed. It was refurbished last week and has fresh food made to order.

What are the latest innovations in fresh food? We've just had our seasonal refresh so have brought in a lot of winter produce, including more Scotty Brand products, things like Scotch broth and lentil mix, but we've also got other winter lines like potato and beetroot mash, and Mexican and Moroccan soups.

What about non-food? Is that less important these days? No, it's still very important. We've just launched two new GM ranges. Fox & Ivy is a really great quality premium range of home products. We are selling loads. There are some lovely gold-plated nibble bowls that are flying off the shelves, but there are all sorts of products like mirrors, pillows and vases. The other one is the Go Cook range, which is a range of cooking equipment, which is also going down very well. It's encouraging people to cook from scratch and is really good value and good quality.

How have the toy wars been going? What have been the most popular products? We've had a massive toy sale and we sold out of a lot of products. The most popular have been the Paw Patrol pirate airship and the Barbie convertible car.

What's new for Christmas this year? Candy cane crisps, would you believe? They are very, very different.
Winner: Tesco Laurel Drive, Danestone, Aberdeen
Manager: Mark Robison
Opened: 1989
Size: 102,000 sq ft
Market share: 61%
Nearest rivals: Iceland - 0.9 miles, Co-op - 1.2 miles, Aldi - 1.4 miles, Sainsbury's - 1.9 miles, Asda - 2.2 miles
Store data source: Analysis by CACI. Call the market planning group on 020 7602 6000