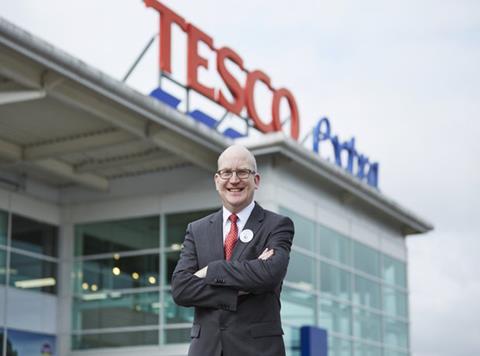 You got maximum points for service from our mystery shopper. What is the secret? The secret for me is for my staff to be happy in their jobs. If my staff are happy then so are our customers.

Do customers want to chat at the checkout or do they just want quick service? We train our colleagues at the checkout to differentiate between speedy customers and those that want to talk. The key to winning is to prove the best service at the till.

How did the 49p fruit & veg land with customers over Easter? It's been tremendously popular. We had lots of products at 49p but we also had half-price deals on lamb and beef, which went down very well. In Northern Ireland Good Friday is not a bank holiday but it was a very successful Easter weekend and it was dry. It might not have been as warm as some places but over here that means we get the barbecues out.

You run a large Extra store. Is it still destination location for shoppers despite the rise of the internet? Yes, it's very much a destination and we have a combination of local housing but are also on the main road from Belfast to Bangor and we have a big commuter custom. We also have Holywood town and Belfast airport on the doorstep so we're very busy.

You have a Sainsbury's right across the road. How do you monitor what they are doing? I keep an eye on them but the best thing I can do is to make sure that myself and my colleagues are doing the best they can for our customers.

What are the characteristics from Northern Ireland which most stand out in your store? We have 1,200 local lines and 90 local suppliers. Currently in GB there's a wine festival going on but we can't take part in that because of restrictions in Northern Ireland so instead we're running a big promotion on our local produce. All our beef, pork, and chicken is local, so is our bread and milk and we have lots of local cheeses on sale. It's a very big thing for us.
Winner: Tesco Knocknagoney Road, Belfast
Manager: Graeme Otley
Size: 80,000 sq ft
Opened: 1999
Market share: 12.3%
Nearest rivals: Sainsbury's - 0.6 miles, Co-op - 1.5 miles, Lidl - 2.7 miles, Asda - 2.9 miles
Store data source: Analysis by CACI. Call the market planning group on 020 7602 6000