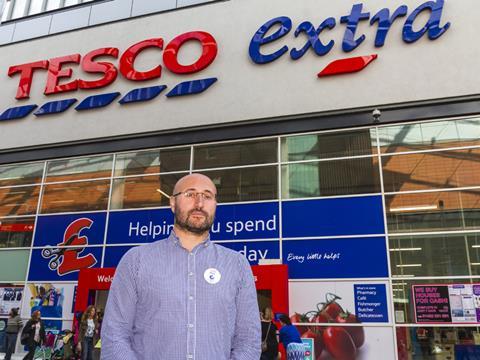 Do you think Tesco is becoming more competitive on price? There has been improved availability and quality and a real investment in price. We know we're very competitive against all our supermarket competition but now we are also pretty competitive against the discounters.

What are your customers telling you about Tesco's turnaround? Customers tell us we are now cheaper than Asda and getting much closer with Aldi and Lidl, but the edge we have is our service and range.

How much has availability improved at your store? We've improved availability from 97% to over 98%. That's a really decent performance. It's about getting your ranging right, getting your merchandising right and getting the replenishment operation right.

How do you ensure you are beating the local competition? One of the examples is clothing. We could look at the competition like River Island and Topshop as a threat, but another way of looking at it is that people are coming to the vicinity to shop for clothes and that is a massive opportunity.

How have customers reacted to your offer of free fruit for children? It's been incredibly popular with parents. I reckon we've been handing out about 500 pieces of fruit a week.

Do you think health lobby criticisms of unhealthy supermarket promotions are fair? We offer a huge range. We constantly have promotions on fruit and veg and fresh foods but it's not just about promotions. Take our new Farms brands: you can buy a punnet of blueberries for a pound. That's incredible.

How important is tackling food waste and food poverty to your customers? We have different charities collecting surplus food from us every day. That's hundreds of meals going to charity instead of landfill. We also hold regular days for food bank collection and every time we've collected at least 10,000 meals.
Winner: Tesco Park Street, Hull
Store manager: Nick Carolan
Size: 110,000 sq ft
Opened: 2007
Market share: 12.8%
Nearest rivals: Sainsbury's - 0.2 miles Iceland - 0.2 miles Asda - 0.9 miles Lidl - 1.2 miles Morrisons - 2.5 miles
Store data source: Analysis by CACI. Call the market planning group on 020 7602 6000