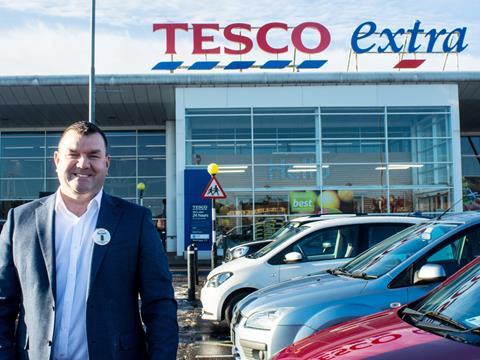 What impact does having rival supermarkets so close to your store make? I have both Sainsbury's and Asda right on the doorstep. It can make life interesting. But it's all about doing everything we can to make the best possible shopping trip and to try to make sure we're the best in town. Our availability is a key factor. That and great service hopefully is what sets us apart.
The government wants to crack down on supermarket promotions. How important are your power aisle promotions? It's extremely important and at the moment we are trying to build on our success over Christmas with our Centenary offers. We're getting very good sales on products like cereals but also things like household products. We also have a baby aisle promotion running in the next aisle.
Have you had any customers stocking up for a no-deal Brexit yet? I haven't seen any evidence of that happening, though I've seen this sort of thing happen in the past with the snow. People have been pretty realistic so far.
Speaking of snow, has this week's cold weather affected the store? We had our first snow today but it's been business as usual. All our deliveries have gone out as planned. Last year my staff did a fantastic job in the Beast from the East but I'm hoping there will not be a repeat.
Tesco is signing up with Jamie Oliver to help reduce food waste among charities. How do you help charities with this? We have charity collections every evening. It's been drilled into everyone at the store that food waste is wrong and we have processes that we use every single day to keep it to a minimum. Food waste is just part of the charity work we do.
You're celebrating 25 years with Tesco. What is the biggest lesson you have learned? The importance of teamwork. That is why I'm so delighted for my team to have won this award.
Store manager: Russell Houston
Opened: 1999
Size: 80,000 sq ft
Market share: 21%
Nearest rivals: Sainsbury's – 0.4 miles, Asda – 1 mile, Aldi – 1.4 miles, Iceland – 1.6 miles
Store data source: Analysis by CACI