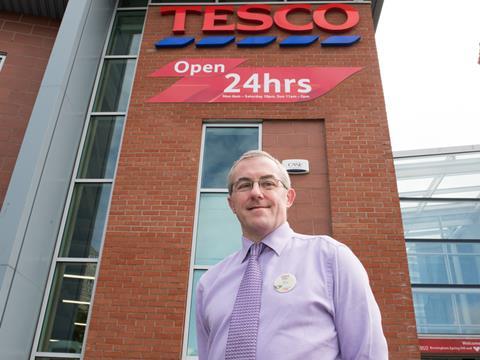 Winner: Tesco Springhill, Hockley, Birmingham
Store manager: Pete Bailey
Size: 50,000 sq ft
Opened: 2010
Market share: 8.8%
Nearest rivals: Sainsbury's - 0.6 miles Lidl - 0.7 miles Morrisons - 1 mile Waitrose -1.3 miles Aldi - 1.3 miles Asda - 1.8 miles
Store data source: Analysis by CACI. Call the market planning group on 020 7602 6000
What are the biggest challenges of running an inner city store? I've run lots of high footfall, low-spend, city stores that have a very high ethnic mix. One of the challenges is that there are a large number of different nationalities and you have to respond to all of them.

How do you do that? Our ethnic mix among staff is very diverse as well, which really helps. We also have a really big world foods range. This week it's Ramadan and we have a huge amount of promotions that are proving popular.

You got a maximum score on checkouts. Yet a few years ago many people thought the days of manned checkouts were numbered. What do you think? People like to have that one-to-one contact. A lot of families shop at Tesco and they want to talk to people with smiling faces. If customers can see that as staff we're having fun while working, then it definitely helps the shopping experience.

One member of staff helped find the gluten-free section using a store app. Is this becoming more common? The Tesco app we use is really transforming the way we can help customers. It can take staff to the exact spot where a product is stocked, or show if it's out the back of the store. It's particularly helpful when we have such a big ethnically diverse range.

What do consumers think of your new-look wine aisles? It was difficult when we first started offering wines at £5 or £7, and we weren't doing promotions, but I think customers have realised they are getting everyday prices. We're seeing good like-for-like growth.

How important is food waste to your shoppers and what are you doing about it? As part of Tesco's programme to divert food waste we are helping seven charities. We also run a food bank ourselves twice a year. It is coming up in a couple of weeks.